Paletteful Packs – March 2023
Contents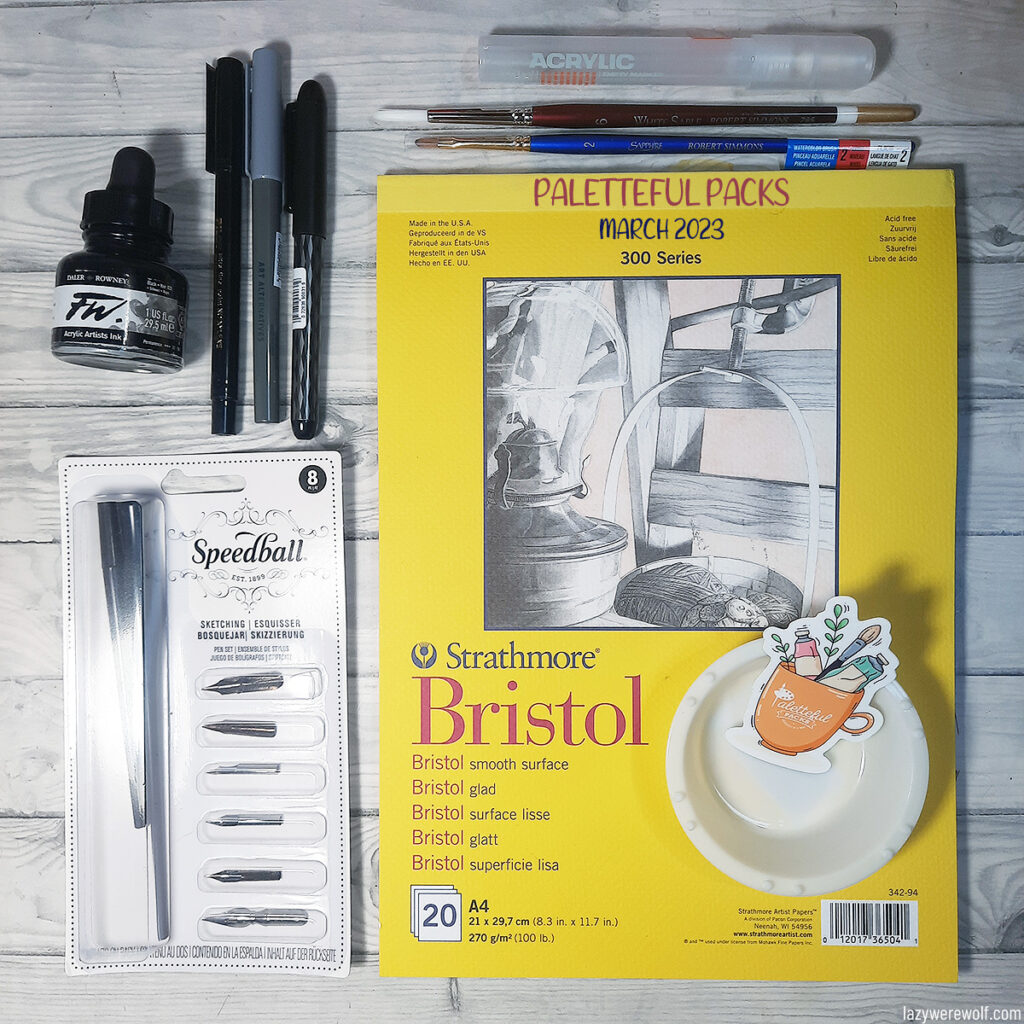 Daler-Rowney FW Acrylic Artist Ink – Black
Daler-Rowney FW Ink is an acrylic pigment-based, water-resistant ink with a high degree of lightfastness and intermixability. FW Acrylic Inks can be used straight out of the dropper, or diluted to achieve the most subtle of tones, very similar in character to watercolor. Such washes will dry to a water-resistant film on virtually all surfaces (please prepare your surface and test on a small area in advance) and successive layers of color can be laid over.
FW ink can be applied using traditional brushes, but also work well through airbrushes, technical pens, and paint markers making them ideal for producing technical illustrations and finely worked drawings. The expressive fluidity of acrylic inks is suitable for use by fine artists, illustrators, graphic designers, calligraphers, decorative artists and hobbyists.
MSRP: $8.95. Available on Tinta for 27,40 PLN (6,71 USD).
LW's note: It's a good quality acrylic ink. I've reviewed some of these already here, where I was actually painting with them 🙂
Speedball Sketching Pen Set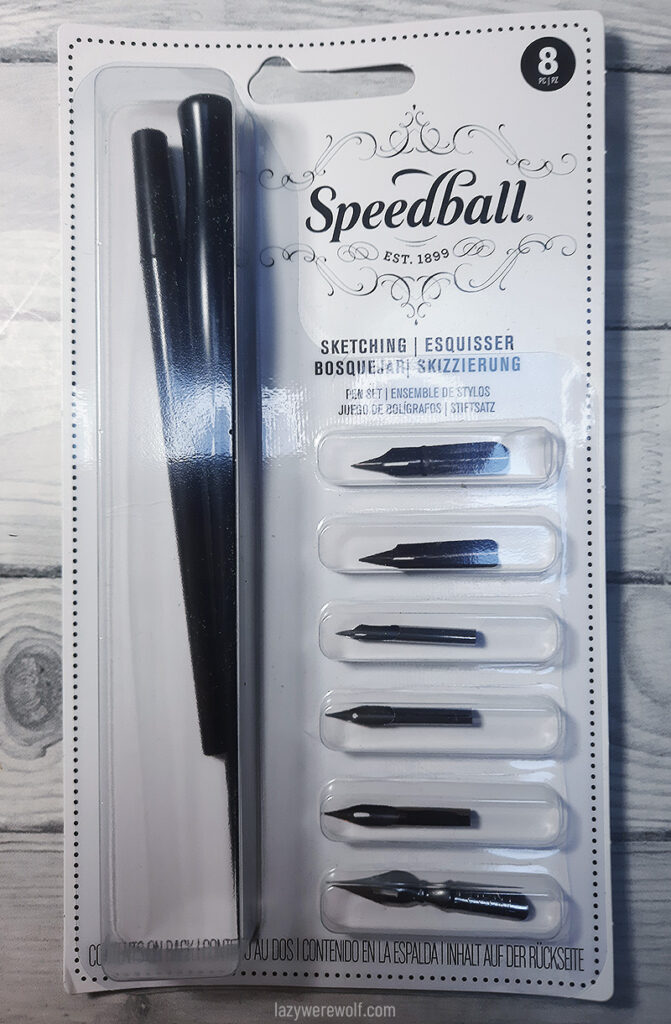 The Sketching Pen Set includes 6 fine artist pen nibs (99, 56, 102, 107, 108, 512) and two holders. Ideal for drawing, sketching, lithography, lettering and cross-hatching.
MSRP: $11.75. Available on Maluje.pl for 58 PLN (14.22 USD).
LW's note: Now this is one of these art supplies I'd never have bought and tried myself. I was equally intrigued and scared of using the dip pens. My expectation was only regarding the difficulty and fun of using the tool – I expected it to be hard to get used to and not fun at all.
Pilot Varsity Disposable Fountain Pen
Varsity pens feature an updated retro era look along with a real fountain pen nib. The pen combines contemporary design and modern convenience with the smooth writing of a liquid ink fountain pen.
MSRP: 3.50. Not available in Poland.
Pilot SCA-UF Extra-Fine Point Permanent Marker
This extra-fine point pen marks permanently on most surfaces including glass, metal, wood, cardboard and plastic.
MSRP: $1.75. I didn't find this marker in Polish stores.
LW's note: It's ULTRA fine, not EXTRA.
Art Alternatives Permanent Marker – Grey
This alcohol-based marker is water-resistant and permanent. It is durable and provides bold, long-lasting, permanent color.
MSRP: $1.19. It's not available in Poland and in this case it's actually good – I hate this marker!
Strathmore 300 Series Bristol Paper Pad A4
Bristol is designed for a broad range of dry mediums/medias including crayon, pencil, charcoal and art markers. Smooth is ideal for fine pen and ink, pencil and mechanical drawing.
MSRP: 13.15. You can get it on maluje.pl for 40 PLN (9,81 USD, currently unavailable).
LW's note: I think I mention it every time I get Strathmore paper but I never feel like I've said it enough! It's such a good quality paper and I love it. The sheets are very thick and smooth, it's a perfect Bristol paper 🙂
Montana Acrylic Empty Marker
Fill this empty marker with the FW Ink or other fluid acrylics. This high-quality, refillable empty marker has an optimum flow control pump-valve systems that allows for accurate handling and application. The fine 2mm nib marker holds 8ml of paint or ink.
MSRP: $4.25. You can buy it for 15.50 PLN (3,56 USD) on Montana Cans.
Robert Simmons Sapphire Filbert #2
The Sapphire line of brushes is designed for artists working in all mediums who love the pointing, color holding, spring and smooth application of natural sable, but also demand the durability. associated with synthetic brushes. The handles are made of kiln-dried beechwood and the ferrules are precision engineered and 22 kt gold-plated. A unique blend of the finest red Kolinsky hair and synthetic filaments deliver the ultimate painting experience. Each brush is hand-made and carries a lifetime guarantee.

MSRP: $11.40. Not available in Poland.
Robert Simmons White Sable Round
This brush has the basic spring and flexible point of traditional red sable hair brushes, but they hold more color, clean easier, last longer and work better for acrylic paint than red sable.
MSRP: $11.10. Not available in Poland.
Color Mixing Cup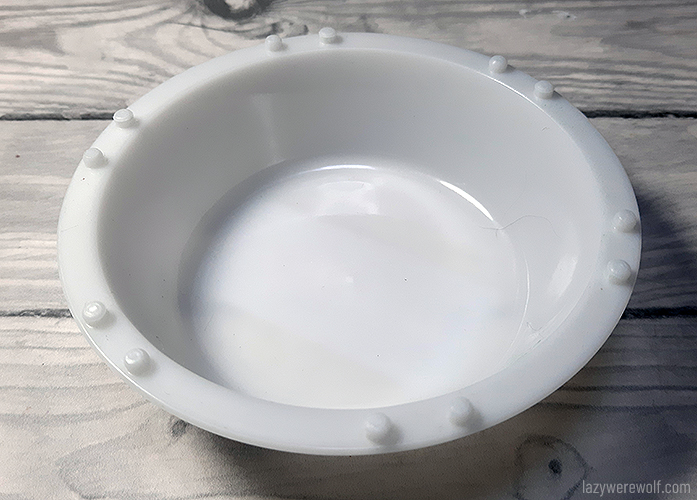 Use for ink or water to rinse brushes.
MSRP: 1.39.
LW's note: You'd think a simple cup like that is easily available in any art supplies store for pennies. I was quite surprised to actually not find anything similar in Polish stores.
Paletteful Pack Prompt
My thoughts
I've never tried dip pens before, not seriously anyway. I used to be fascinated by everything manga-related, so at some point in my life, I was subscribed to a Manga drawing course – in each shipment, they'd send me some drawing guides as well as materials I might need, like pencils, pens, screen tones. With one of the issues I got dip pens along with some nibs but I've never really used them. Sure, I've made a few lines to just try them out, but I had my fineliners and the dip pens seemed to me overly complicated and sophisticated, so I didn't end up giving them another chance.
And, to be honest, I didn't even consider giving them a go until now! I must admit I'm very surprised by the experience I had. Drawing with the pens was definitely out of my comfort zone and the tool sort of forced me to draw in a different art style than my usual, so the process was a bit tiring but I'm absolutely convinced to use ink and dip pens for my linearts now! The dip pens aren't the easiest of tools though, I definitely do need some more practice to not only just get used to them, but also to learn them enough not to destroy my paper, but they are also extremely satisfying to use, once you find perfect nibs.
I tried out all the nibs a few times and scribbled some quick drawings with them. I initially thought I found the ones I liked the most but I ended up switching them up a bit and for most of the final drawing, I've used nibs 56 (a bigger one) and 102 (a smaller one).
I absolutely loved the way the pens worked and I can't imagine going back to linearts done with fineliners only. Of course, it might depend on the task, but now, after giving the dip pens a good go I can see how fineliners can be limiting in the line thickness but also the general experience. But they are faster and easier to use, so there is that. 🙂
I also might need to look for a better ink to use with the dip pens. The acrylic one definitely wasn't bad, but for me, it seemed a bit too thick, so regular ink might work better. But at least I have another FW Ink for my collection!
I used the color mixing cup/well from the Pack for storing the ink and dipping the pens in it, but I don't think it was the best kind of container to use for it. I think I'd prefer something taller but slimmer, so I didn't have to pour that much ink into it. Acrylic inks dry up pretty fast and you can't restore them after they dry, so unfortunately a medium loss was a constant during this project. I believe an ink well would work better here, can you imagine? 🙂 I decided to not use the original FW ink well though because I didn't want to contaminate the medium.
As I mentioned, for the drawing I used mostly dip pens but there were a few places where I put the ink with a brush or used a fineliner, but the areas I did that were pretty small and insignificant.
As for the other supplies from the box:
The grey Art Alternatives marker/fineliner is, frankly, horrible and I do not recommend it! It doesn't release the ink evenly and the ink feathers on paper so I wasn't able to draw any decent-looking line with it.
I think I am becoming a fan of dip/ink/fountain pens so I might use the Pilot pen for regular writing in my daily life (and I think that's a perfect moment to improve my handwriting!). It goes on paper very smoothly and the ink is nice and black. I haven't used it for the artwork purely because the ink in it isn't water-resistant.
Pilot Ultra-Fine Point Permanent Marker is a very good marker/fineliner. It goes on paper nicely and the ink is high quality and decently black.
The empty paint marker – I didn't use it as I didn't need something that would draw such thick lines in this project and I didn't want to waste the in I'd have to pour into it to try it out.
The brushes – I've only tried them out briefly but they are really good brushes. I think Robert Simmons brushes can just be trusted 🙂
And here is the finished artwork. I hope you like it!