Paletteful Packs – February 2023
Contents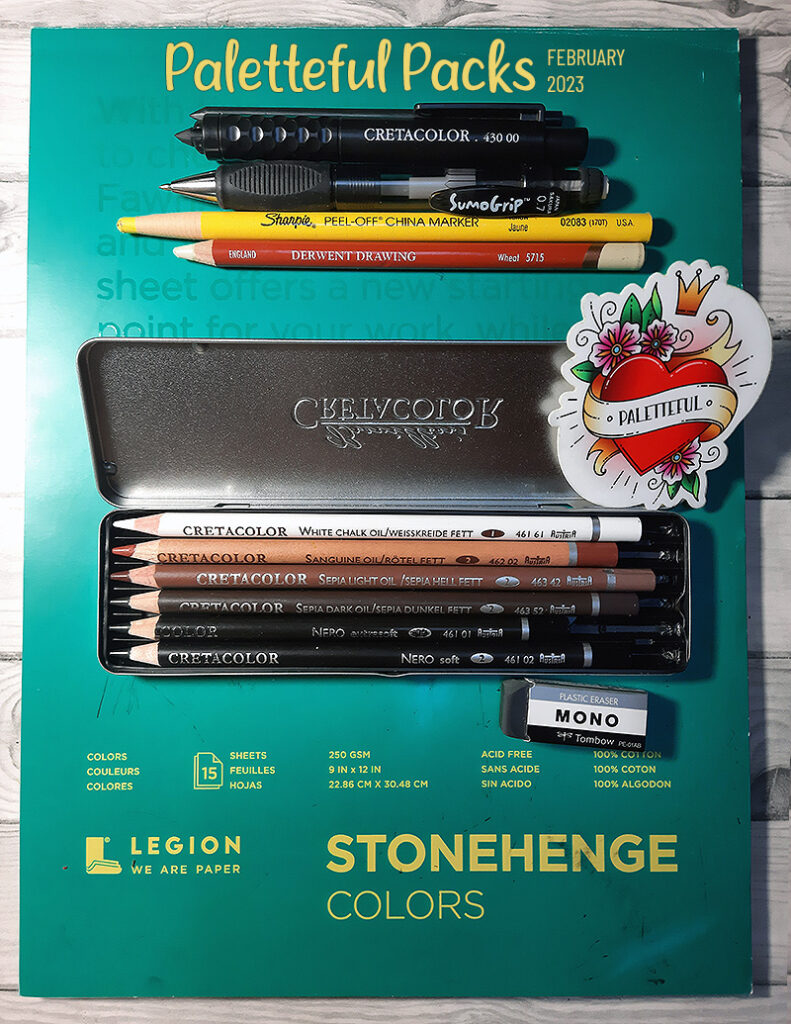 Cretacolor Oil Pencil Drawing Set
Cretacolor Oil Pencils are excellent for general purpose sketching and drawing when a dense shiny, smudge proof stroke is needed. They are oil-based and water-resistant. This complete pocket tin set of six Artist's oil pencils includes one each of Nero black soft and extra-soft, white, sanguine, sepia light and dark pencils.
MSRP: $17.99. Available on Szał dla Plastyków for 40,70 PLN (9,90 USD… half the MSRP!)
Cretacolor Nero Charcoal Oil Drawing Stick and Lead Holder
Deep black lines can be produced with this soft stick. The stick is water and smudge-resistant, and more difficult to break than graphite sticks. Nero Sticks work excellently in conjunction with traditional charcoal and all water-based media. Place the stick into the Cretacolor leader holder. A lead holder makes working with 5.6 mm leads much easier. It protects the leads from breaking and keeps hands clean.

MSRP: $2.49 (Drawing Stick). Didn't find it in Poland but the price is about right for similar products.
MSRP: $9.99 (lead holder). Available on Plastycznie.pl for 13,10 PLN (3,19 USD, again, almost 1/3 of the MSRP… Where do they take these prices from, are they even correct?)
Stonehenge Color Paper Pad 9″ x 12″
Machine-made in the USA, this versatile fine art paper is 100% cotton, heavy-weight, acid-free and ideal for a variety of media including drawing, watercolor, printmaking, pen and ink, pencil and pastel. It offers a smooth, even surface with a slight tooth that resembles vellum. This tape-bound, multi-color pad contains three sheets each of warm white, natural, cream, fawn and pearl gray.
MSRP: $33.21. Didn't find it in Poland. The price of other, available Stonhenge paper pads is usually a bit lower.
LW's note: The paper is nice, very thick, and yellowish in colour. I had both great and horrible experiences working on Stonehenge paper before, so I was curious which one it would be this time.
Sumo Grip Mechanical Pencil
Sumo Grip's triangular cushion grip provides the ultimate comfort while the oversized barrel alleviates cramping over long-term use. These ergonomic pencils feature a stylishly designed clear barrel and a jumbo twist eraser that lasts six times longer than most mechanical pencil erasers. The leads can be refilled.

MSRP: $5.22. Available on Szał dla Plastyków for 26.30 PLN (6.41 USD).
LW's note: I love these pencils, so I'm happy I got another one. This time it's a 0.7 one.
Derwent Drawing Pencil
A graphite pencils designed for designers and drafts people. They are made of the highest quality Cumberland graphite and the purest clays to produce a smooth texture.

MSRP: $2.39. The pencils are available in many Polish art stores but this particular colour (Wheat) I found on Maluje.pl and you can buy it for 8,60 PLN (2,10 USD).
LW's note: I have some pencils from this line and I'm not exactly a fan of them but it's a good colour match for the other pencils from this box.
China Marker
A soft, crayon-like pencil-style marker designed to mark on both porous and non-porous surfaces

MSRP: $1.53. Available on markery.pl for 9,50 PLN (2,32 USD).
LW's note: No idea why we'd get a CHINA marker/pencil to accompany the rest of these materials. It seems like maybe they ran out of ideas what else to put in the box 🙂
Maped Two Hole Pencil Sharpener
This shatter-resistant double-hole sharpener fits both standard size pencils and specialty pencils. The durable, all-metal sharpening insert is designed for intensive use, and the integrated canister keeps your workspace neat and clean.
MSRP: $2.79. Available on Allegro.pl for around 20 PLN (4,87 USD).
LW's note: Now that's a weird shape for a pencil sharpener. I wonder if it's comfortable to use. Spoiler warning: IT'S NOT.
Tombow Mono Eraser
This soft plastic eraser removes marks cleanly with little pressure and no paper damage. The eraser's protective paper sleeve features rounded corners to prevent damage to the eraser during use. The eraser hides graphite residue and always looks neat and clean. This eraser will also work on the oil pencils.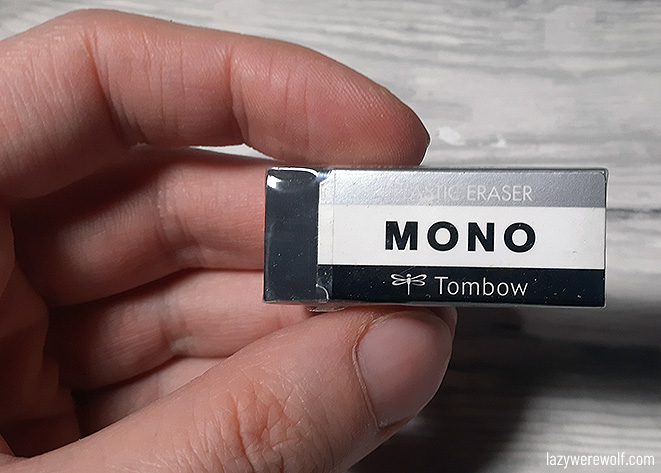 MSRP: $.98. The white version is available on Tinta for 6,80 PLN (1,66 USD).
LW's note: Yes! My favourite eraser! <3
Paletteful Pack Prompts
Prompt #1: Old Shoe
Prompt #2: Hands
Prompt #3: Unexpected
Prompt #4: Desert
My thoughts
Looking at this month's supplies, I quickly realised I wanted to draw the old shoe in sepia or "old photo" shades and I actually got quite excited about this project.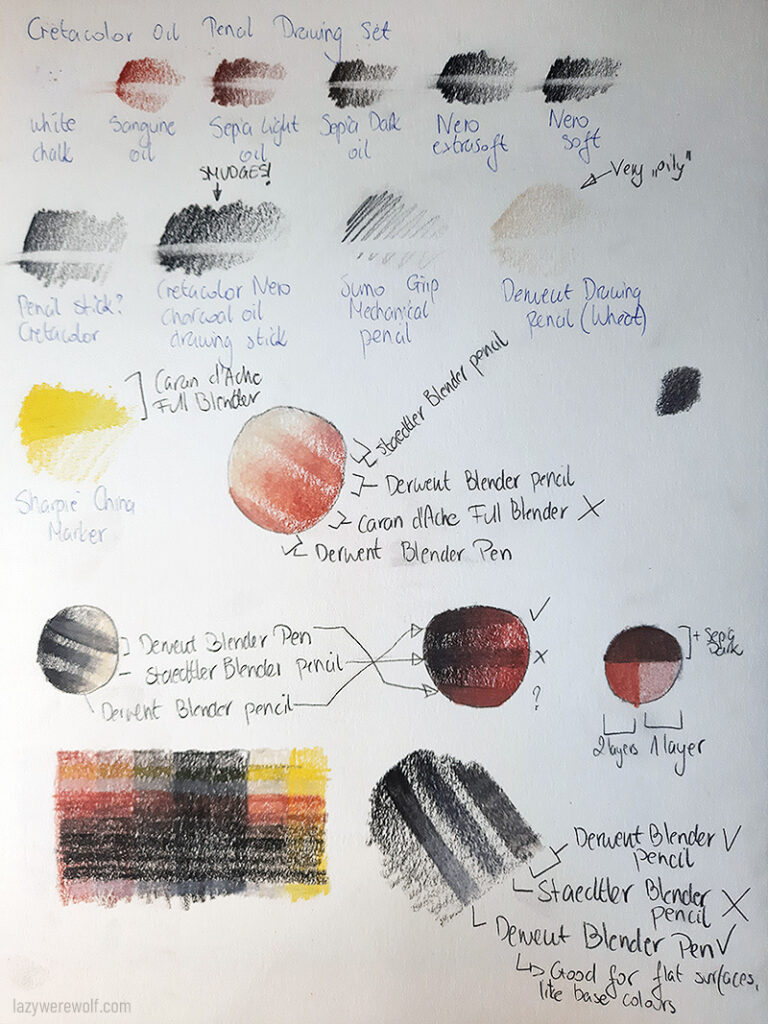 I started, as always, by testing the supplies from the box. I wanted to see how they mix and blend with each other, what colours I can get with the pencils and generally how they work together.
The paper is a bit grainy, so, to avoid the texture in the final artwork, I tried the pencils with several blenders I own:
Derwent Blender Pencil
Derwent Blender Pen
Steadler Blender Pencil
Caran D'Ache Full Blender
White Chalk pencil from this month's box
All of them worked, but I liked the Derwent Blender Pencil the most, so this was the one I used for the artwork.
The Cretacolor set has 2 Nero pencils (charcoals). One is called Soft, and the other one – Extrasoft. There is very little difference between them. If anything, the Soft pencil initially seemed to go on the paper easier and smoother, but I ended up using the Extrasoft one for bigger areas, and the Soft one for details.
Overall, all the pencils worked fine and although I struggled with them a bit (due to their oil base and me not being used to working with such pencils), the experience was generally pleasant, even if time-consuming.
The biggest problem I had was with the pencil sharpener. It's just not designed well. If a lead/pencil core breaks inside the sharpener, it's really hard to take it out, because of the metal part's angle in the plastic cap. Also, when you open the sharpener's case, the pencils' shavings fall out of it on the sides, due to the triangular sharpener's shape. The sharpening itself is fine, but the experience of using this sharpener is very bad and I'm definitely not going to use it anymore. I may just take the metal part out of its plastic case and throw the rest out, that could save it for me.
And here is the finished artwork. I hope you like it!