Paletteful Packs – January 2023
Contents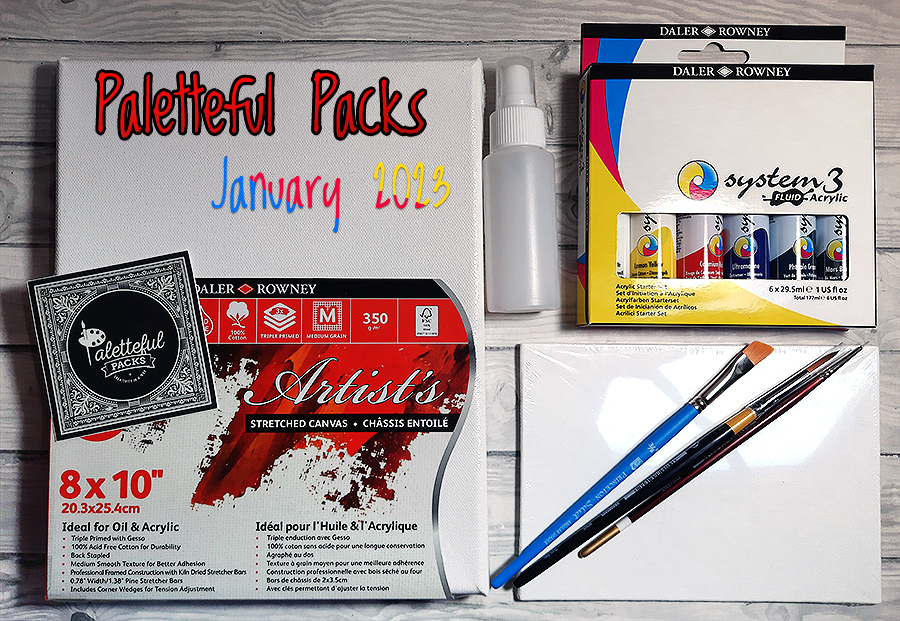 Daler-Rowney System3 Fluid Acrylic Set
Pigment Load and Fluidity.
The System3 Fluid Acrylic has a highly intense pigment load which equals high tinting strength. Its fluid consistency allows you to load a brush more evenly, allows more uniform brushstrokes, and assists with long painting strokes without reloading the brush.
Highly Versatile Fluid.
The System3 Fluid Acrylic support a varied range of applications; poured, puddled, dropped & dragged, used for layering & glazing & mixed with texture paste or other mediums & gels. It can be mixed with textile printing medium, airbrush medium & System3 pouring medium for traditional fluid art techniques.
Wide Range of Applications
System3 Fluid Acrylic is durable and flexible with excellent adhesion to multiple surfaces including stone, wood, textiles, canvas & paper. There is no need to dilute with water for immediate application. This acrylic offers great coverage making it perfect for murals and other large surface area applications. It is superior for use in watercolor applications (wet on wet & wet on dry).
LW's note: I was expecting the paints to be thinner but they are similar to liquid watercolours in consistency.
MSRP: $32.70. Couldn't find the paints in Polish stores.
Daler-Rowney Artists' Stretched Canvas 8″ x 10″
100% cotton, 350gsm canvas.
Daler-Rowney Artists' Stretched Canvases are made to the highest specifications. They are made with a superior-quality heavyweight (350gsm), acid-free, 100% cotton, medium grain canvas and professional stretcher bars in heavy wood for improved strength and optimal stability.
Triple primed canvas.
The Artists' canvases have been given three coats of acrylic primer; triple-priming creates a perfect ready-to-use painting surface, for both oil and acrylic, that holds the color on the surface and prevents seepage through to the back.
Stapled at the back.
Daler-Rowney Artists' Stretched Canvases are stapled on the back to give clean edges and come complete with wooden wedges to adjust tension in the traditional manner and they are individually wrapped to protect the surface.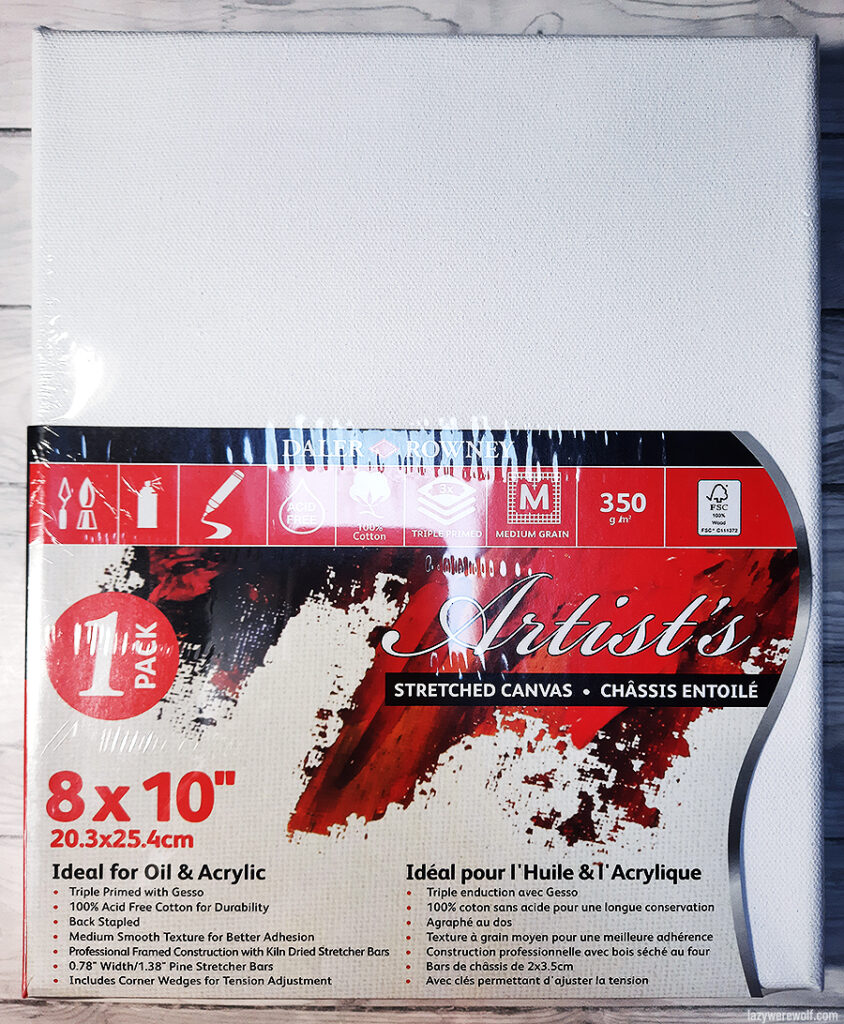 MSRP: $16.99. Similar-sized canvases you can buy in Poland for 11-25PLN (2.75-6.24 USD).
Canvas Panel 5″ x 7″
Canvas Panel 5″ x 7″ primed with acid-free acrylic titanium gesso and ready for you to paint on.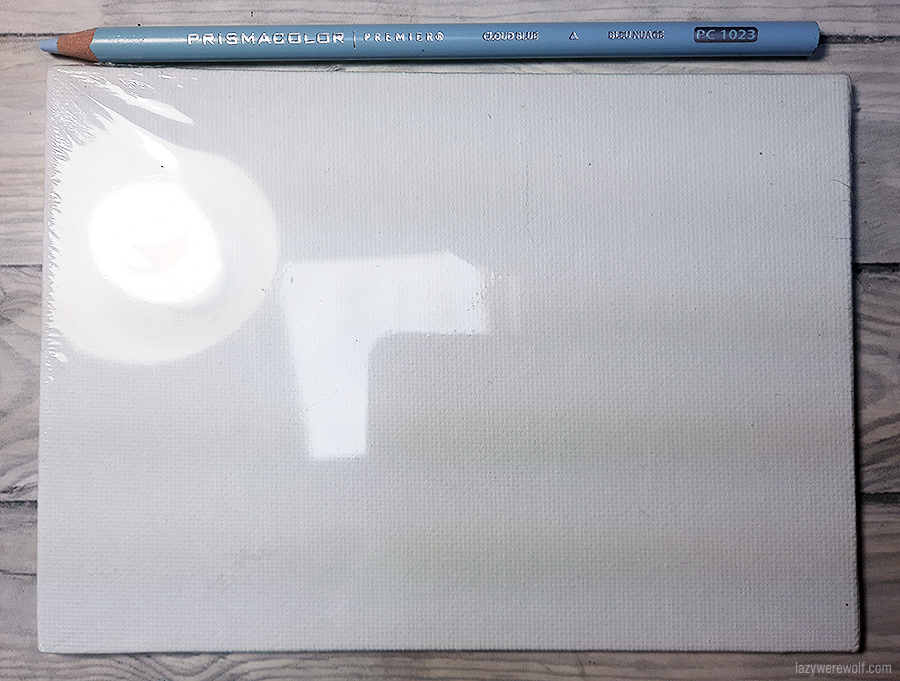 MSRP: $2.79
Princeton Artiste Select #3/8 Angular Brush
This high quality short handled brush is wonderful at holding water and is made to last. It will be a great addition to your brush collection as they go above and beyond many other brushes on the market.

MSRP: $8.65. Available on Paper Concept for 19 PLN (4.74 USD)
Robert Simmons White Sable #8/0 Round Detail Brush
This brush has the basic spring and flexible point of traditional red sable hair brushes, but they hold more color, clean easier, last longer and work better for acrylic paint than red sable. The 8/0 size is perfect for your finest details.
MSRP: $6.99
Robert Simmons Acrylic Brush Round #5
This golden taklon brush has fibers of multi-diameter taklon to enhance color carrying capacity. Ideal for working in acrylics. Carefully balanced hardwood handles, lacquered in gloss enamel for comfortable working.
MSRP: $6.99
Spray Bottle
Made of high quality, translucent plastic, this spray bottle features a sprayer cap that produces a fine mist. Use the spray to keep your acrylics moist or to create a spray effect on your canvas.
LW's note: I'm actually quite surprised with this spray bottle. I was expecting a tiny and flimsy one, but I got a sturdy product that is bigger than the bottles I've already owned, so I am happy with it.
MSRP: $2.99
Paletteful Pack Prompt
Prompt #1: Dream
Prompt #2: Bugs
Prompt #3: Jewelry
Prompt #4: Lunch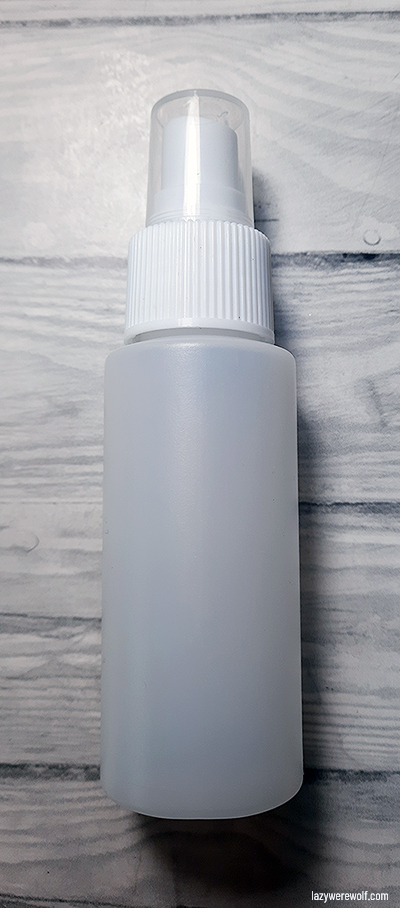 My thoughts
I was excited to try out the paints but also a bit worried about it because I'd call acrylic paints my main art medium so I expected a high quality artwork from myself. I also planned to make 2 artworks with System3 Fluid paints – a practice one and the actual one.
As a practice, I decided to paint a little bee picture.
My first remark about the paints was that I didn't see a difference between them and Daler-Rowny acrylic inks. That's why I decided to mix a bit these media while working on the sketch and potentially also on the second painting for this month.
The difference, however, became quite obvious pretty soon. The ink didn't stick to the canvas at all, unlike the paints. It wasn't easy to paint like this, as you may imagine, and for this reason, I avoided mixing the paints with the inks after I noticed it.
After I decided not to use the inks anymore in this month's artworks, I began slowly adding watered-down colours to the canvas… which, as I soon found out, wasn't a good idea either because the dried-out paints left "stains" and marks similar to drying watercolours. Depending on what your artwork is supposed to look like, it might be a good thing but in this case, I definitely didn't like the effect so later on I tried to not add that much water to the paints.
The problems didn't end there though. Soon I realised the paints didn't want to stay on the canvas too – if they weren't completely dry, the brushes I was using were scraping the paints off the surface. Therefore I couldn't paint one area before each paint layer was completely dry.
Like that wasn't enough, the paints were difficult to mix and when left on the palette, the colours were separating again. The paints were also quite transparent, especially the yellow one, and what was very strange about it – adding just a little bit of water to the yellow paint would make it totally watered down, more like tinted water.
Overall using these paints was really an unpleasant experience. I struggled a lot with mixing and keeping the colours on the canvas. That's why I decided the torture of painting another image with these paints is out of the question. Now. I'm not saying these are bad paints but I'm definitely not a fan of them as they didn't work at all with my style.