Paletteful Packs – October 2022
Contents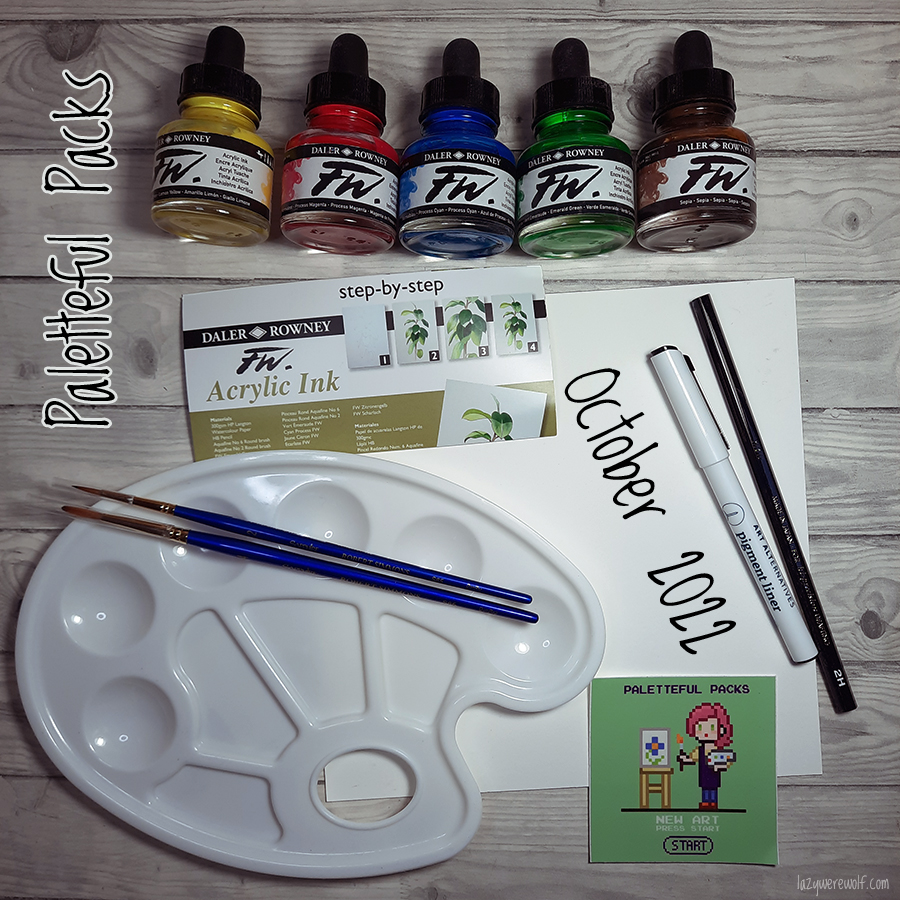 Daler-Rowney FW Acrylic Ink (Lemon Yellow, Process Magenta, Process Cyan, Sepia, and Emerald Green)
Daler-Rowney FW Ink is an acrylic pigment-based, water-resistant ink with a high degree of lightfastness and intermixability. FW Acrylic Inks can be used straight out of the dropper, or diluted to achieve the most subtle of tones, very similar in character to watercolor. Such washes will dry to a water-resistant film on virtually all surfaces (please prepare your surface and test on a small area in advance) and successive layers of color can be laid over.
FW inks can be applied using traditional brushes, but also work well through airbrushes, technical pens, and paint markers making them ideal for producing technical illustrations and finely worked drawings. The expressive fluidity of acrylic inks is suitable for use by fine artists, illustrators, graphic designers, calligraphers, decorative artists and hobbyists.
LW's note: The ink bottles are surprisingly big, for some reason I thought they'd be smaller. Each bottle contains 29.5 ml of ink and according to information on the bottle – the ink is lightfast. The bottles have a dropper applicator so that's pretty neat – I wish our previous metallic inks had droppers too. Along with the inks we got a Daler-Rowney leaflet with instructions on how to use them and this is a nice surprise because that's the first time we got something like that. To be honest these acrylic inks looked like a medium that I might liked so I couldn't wait to try them out.
MSRP: $43.75. Available on Tinta, 27,40 PLN each, so 137 PLN (30,69 USD) for all.
Art Alternatives 10 Well Paint Tray
Suitable for all water-based media, this paint tray has six round wells and four rectangular wells. It has the contour of a traditional palette and features a thumb hole. The molded white plastic is highly durable, and the smooth surface is easy to clean.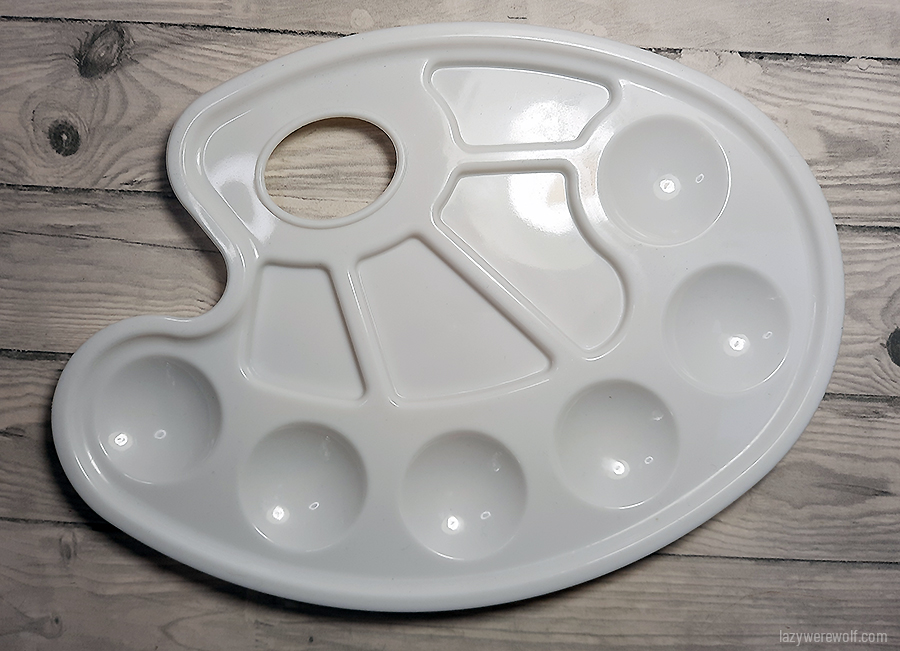 LW's note: Although Art Alternatives brand isn't available in Poland, this kind of paint tray you can easily get in any big market for pennies. It doesn't feel innovative, better or worse quality than a similar palette I got myself years ago. It's just a regular cheap palette.
MSRP: $2.69. As I said, you can get these palettes/trays insanely cheap in big markets but if you really want to get them in art supplies stores for a little more money, you can still do that. For example on SzałArt for 5,50 PLN (1,13 USD).
AA Pigment Liner Pen
Pigment Liner pens are ideal for illustration, graphic and technical drawings, sketching, crafting and lettering. The durable nibs produce fine lines making them great for detail work. The pens contain acid-free, archival-quality water-based pigment ink that is water- and fade-resistant when dry.
LW's note: It's an ok fineliner, not my favourite nor extremely high quality but it gets the job done.
MSRP: $1.99. It's not available in Poland but you can get similar or better liners for around 9 PLN that is roughly the same price as the suggested one.
Robert Simmons Sapphire Brushes
The Sapphire line of brushes is designed for artists working in all mediums who love the pointing, color holding, spring and smooth application of natural sable, but also demand the durability associated with synthetic brushes. The handles are made of kiln-dried beechwood and the ferrules are precision engineered and 22 kt gold-plated. A unique blend of the finest red Kolinsky hair and synthetic filaments delivers the ultimate painting experience. Each brush is hand-made and carries a lifetime guarantee.
#2 Round, #4 Round
LW's note: The brushes arrived a bit "tired", I'm not sure what happened to them because the protective tubes were still on. Fortunately, that didn't make the brushes beyond saving – I was able to put the hair back in order. I was happy to find these brushes in the pack because I absolutely love this line 🙂
MSRP: $19.99. Robert Simmons brushes are sadly unavailable in Poland.
Tombow Drawing Pencil
These pencils are made with superior, extra-refined high-density graphite. These long lasting pencils feature strong points making them extremely break resistant. They also wear slowly, all the while producing smooth, dense lines when writing or drawing. The smear-proof lines give drawings a crisp, clean appearance.

LW's note: It's a really good pencil, not much more to say here. I arrived unsharpened.
MSRP: $1.56. I didn't find this particular pencil in Polish stores. On SklepPlastyczny.pl you can buy a Faber Castell 2H pencil for 4,90 PLN (1,10 USD).
Stonehenge White 100% Cotton Paper 8″ x 8″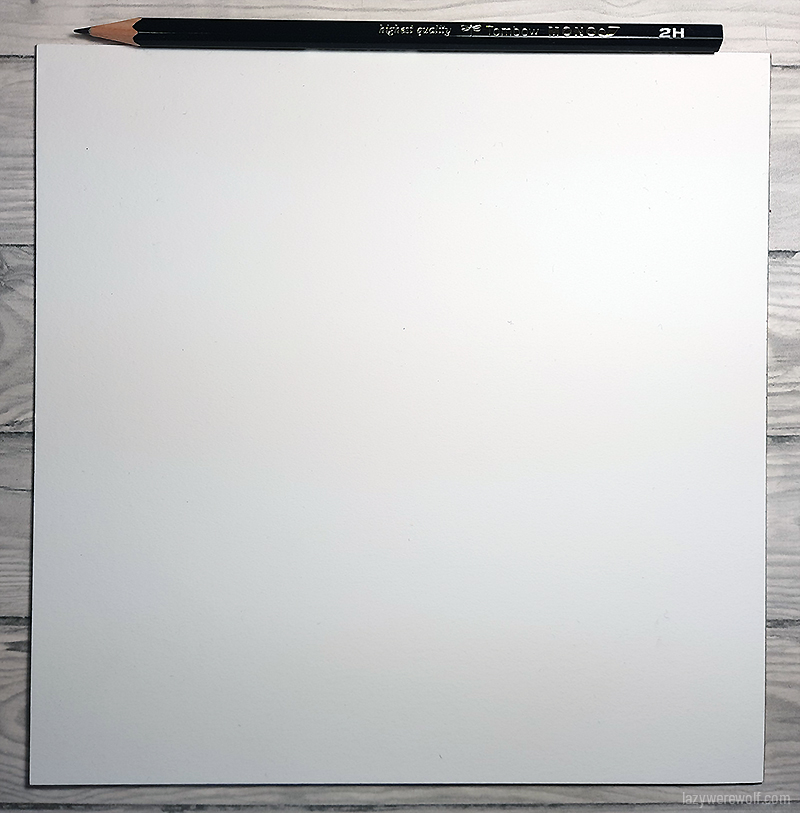 Stonehenge is a 100% cotton rag, acid-free, heavy-weight paper that is machine-made in the USA. This versatile fine art paper offers a smooth, even surface with a slight tooth that resembles vellum. Ideal for a variety of media including pen & ink, drawing, watercolor, printmaking, pencil, pastel, or silkscreen. Free Sample Pack.
LW's note: The whole pad you can get on Maluje.pl for about 80 PLN but what we got is a free sample pack so I assume it doesn't matter how much the whole pad costs, because… this 3-sheet pack was free. To be honest I'm disappointed we're being given a freebie as part of a paid package. The paper looks good but we got THREE sheets of it. Regardless, the paper has good quality and the surface is rather on the smooth side.
Paletteful Pack Prompt
Prompt #1: Leaf
Prompt #2: Camping
Prompt #3: Spooky
Prompt #4: Adventure
My thoughts
The rant
I'll be honest. I feel ripped off by this Pack. The inks' price is 30% lower than the suggested one and the paper we got is actually a free sample even though we PAID for the pack. And besides these two things, we only get a regular pencil, a cheap fineliner, 2 brushes and an even cheaper paint well that you can actually get for pennies. I'm disappointed and a bit salty. But I'll try to give you my thoughts on the supplies from this Pack without any bias.
4 months later…
The initial tests
We were only given 3 sheets of paper, so the first tests of the supplies and the practice sketch I did on Marabu Graphix Aqua Pad paper from one of the previous boxes which is much more textured but it's meant to handle inks and any other water-based media.
The thing I noticed first about the inks is that, although quite opaque (except the yellow one, which is always an issue with acrylics), they are very thin – this aspect of them reminded me of thick liquid watercolours (can you tell I don't use inks often? 🙂 ). They blended well with each other and kept the juicy colours after drying.
Speaking of drying, the inks dry quite fast and, as I mentioned before, they dry matte when in a small amounts. After drying they aren't liftable/revivable at all, so make sure not to spill them on your clothes. They are even hard to remove from the plastic palette after drying, but you can fix that by pouring some rubbing alcohol on them and leaving it for about 20 seconds – it makes them wash off very easily.
The sketch
For my practice sketch, I decided to paint a jack-o-lantern, because I already knew my final artwork would mostly have muted colours, so I first wanted to see how hard would it be to get vivid, bright colours and dark shades. Additionally, this is an October pack, so it only seemed fitting to paint something Halloween-themed.
The results aren't spook spectacular, but I still had a lot of fun with using the inks and although I think it's not an easy-to-use medium, I'm extremely interested in using it in the future. To me, it seemed like a perfect blend of watercolours and acrylics. Using these inks was definitely a very interesting experience for me. I'm of course far from mastering the medium but I have to admit – I'm in love with the acrylic inks. I may end up buying more colours and using them more often. To be honest – I didn't expect to have that much fun with these inks.
After I finished the painting, I decided to add a bit of lineart to the pumpkin sketch, to utilise the liner from the pack and make the sketch more defined. I think it gave the image more personality.
The artwork
The charcoal pack from the earlier month had Skull in its prompts and I was very close to choosing it, but eventually I drew elephants with that month's supplies. This month though, I was really hyped about painting a skull with the inks and I think the prompt Spooky was a perfect excuse to do it.
The FREE paper (I'm still not over it) we were given is nice, durable and high quality. It felt really nice to draw on it and I almost regretted it was going to be a painting this time.
The paper is thick but I could still use my lightbox to transfer the sketch onto it. The paper was destroyed neither by masking tape nor by erasing the pencil traces from it. Honestly, until I started putting water on the paper, it felt like one of the best papers I've worked with.
Unfortunately though, as soon as I started applying water to the Stonehenge paper, it started bending and it kept doing it throughout the whole painting process. The surface didn't get damaged by putting a lot of water on it but the bending was severe, so I assume this paper isn't meant to use with wet media.
Even so, I still had a lot of fun painting the skull!
---
Have you tried any kind of inks? If so, which ones are your favourite? What do you think about acrylic inks? Let me know in the comments!