Paletteful Packs – February 2022
What is Paletteful Packs?
Contents
Prices
Supplies
Prompts
Contents
Marabu Graphix Metallic and Pearlescent Aqua Inks (9 colors)
Pentel Dual Metallic Brush Pen
Princeton Artiste Select Brush
Art Alternatives Pigment Liner
Marabu Graphix Aqua Paper
A cute sticker
Prices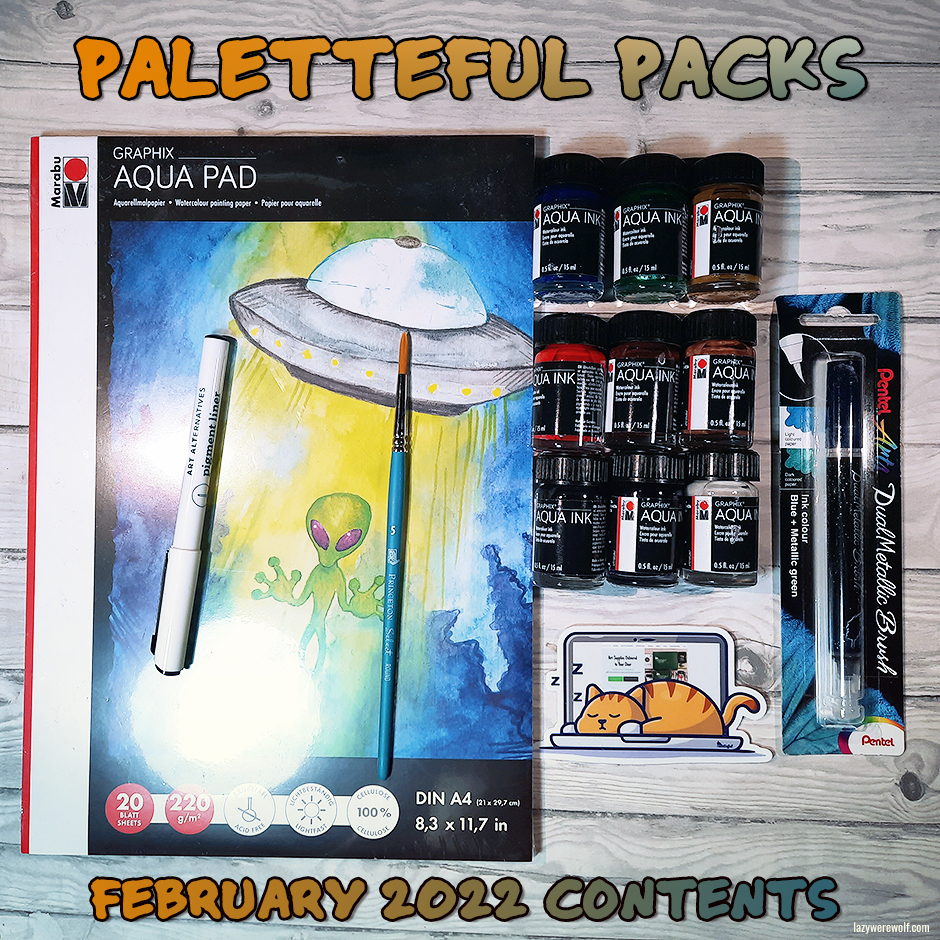 I paid for the pack 35$ (around 145 PLN) plus 15$ for shipping (~62,5 PLN) and 40 PLN (around 10$) for customs fees. Altogether it was 60$/245,5 PLN. Let's see what's the actual cost of the items inside the package.
Marabu Graphix Metallic and Pearlescent Aqua Inks (9 colors) MSRP: $29.61 / 126,17 PLN. The Metallic and Pearlescent Inks aren't available in Poland (they're probably too new product 🙂 ). A pack of non-metallic Marabu inks is available HERE on ArtEquipment. It's a set of 6 inks that costs 43 PLN which would make 64,50 PLN / $15.14 for 9 pieces. The Metallic inks might be indeed more expensive though, so for the set I'll assume a price of 80 PLN / $18.77.
Pentel Dual Metallic Brush Pen MSRP: $9.99 / 42,57 PLN. This pen is also not available in Poland. The closest substitute I found is ZIG Fudebiyori Metallic brush pen, although it's not a "dual" colour.
Princeton Artiste Select Brush MSRP: $6.25 / 26,63 PLN. Available on PaperConcept for 13 PLN / $3,05.
Art Alternatives Pigment Liner MSRP: $1.99 / 8,48 PLN. Not available in Poland. I think a Faber-Castell Ecco fineliner is quite similar and is available on SzałArt for 9,35 PLN / $2.19.
Marabu Graphix Aqua Paper MSRP: $19.99 / 85,18 PLN. Another supply not available (yet?) in Poland 🙂 I only found one Watercolor pad with 220g/m2 and it's available on WarsztatArtysty for 26,90 PLN but I'm not sure if it's the same quality as the Marabu one but it I highly doubt it would cost 85,18 PLN so I'll assume a price of 40 PLN / $9.39.
The estimated price of all the supplies is a total of $67,83 / 289,03 PLN. The real price (what I would have paid if I bought the supplies myself AND if they were available in Poland) is around $43,39 / 184,92 PLN which is way lower than what I've actually paid including shipping and customs fees. It is still a bit higher from the price I've payed for the supplies only though.
Supplies
Marabu Graphix Metallic and Pearlescent Aqua Inks (9 colors)
These metallic and pearlescent colors are so new that you can't find them in-store or even on Marbau's own website! Graphix Aqua Inks are versatile and highly-pigmented watercolor inks for fine art and mixed media. Use them at full strength for bright, vivid tones, or blend with water for softer hues and gradations. Aqua Inks can be reworked even after they're dry – create beautiful watercolor effects with brushes, sponges or even dip pens. The white pearlescent ink is meant more for mixing colors rather than a super opaque white. Shake vigorously before use.
LW NOTE: I haven't used inks before so everything about them was new to me, but I suspect some of the traits were very specific to these metallic/pearlescent ones. First of all, they are very liquidy, what was to be expected. But on the other side, they were thicker than watercolours because of the metallic dust in them. Additionally, probably also because of the dust, they dried quite fast – faster than watercolours. Another thing that I noticed is that they were quite opaque, which surprised me, but again, I think it's because of the metallic dust. The original description is quite on point: you can rework the already dried inks and the white ink isn't as opaque as the other inks. The metallic dust seems to be heavy – it falls down in the inks very fast so yes, do "shake vigorously before use". Before EVERY use, I may add, even if you add more ink from the bottle just several minutes apart. The colours themselves are beautiful and vivid and the inks were a pure pleasure to use, even if challanging.
Pentel Dual Metallic Brush Pen
This new innovative brush pen from Pentel features colored metallic ink that sparkles! The ink looks different on black or white paper or even the angle you view it at. The pen is perfect for use for fine art, mixed media, cards, and more!
Before each time you use the pen, give the pen a gentle shake. To increase the amount of ink in the brush tip, press the button on the back of the pen. Store horizontally.
LW NOTE: I got a blue pen that has an amazing blue shade that turned into greenish, depending on the angle you look at. I didn't use it for my artwork this time, because the colour didn't match my scheme but I absolutely love the colour. The pen itself seems to be high quality. The tip feels like a traditional watercolour brush – it's very soft, softer than expected. I will probably use it in the future for a different project.
Princeton Artiste Select Brush
This high quality short handled brush is wonderful at holding water and is made to last. It will be a great addition to your brush collection as they go above and beyond many other brushes on the market.
LW NOTE: The brush worked just fine with the inks and I think it's an OK brush. What I did notice though, is that after I accidentally left this and two other brushes overnight in water (don't ever do it!) the other brushes were fine but the outer layer/paint on this brush was cracked. I take it as a sign this is a lower quality brush. One of the other brushes was a Princeton Heritage brush and I can believe it's a higher quality one, it even looks more luxurious than the Select brush. But still, as I said before, the Select brush worked just fine and I didn't have any issues with it.
Art Alternatives Pigment Liner
The Art Alternatives Pigment Liner pens are ideal for illustration, graphic and technical drawings, sketching, and lettering. The durable nibs produce fine lines making them great for detail work. The pens contain acid-free, archival-quality water-based pigment ink that is water and fade resistant when dry.
LW NOTE: I really liked this liner – it writes, draws and fills with colour really nice. I love the round tip. It's works really good with the inks but you do have to wait until it dries completely – otherwise it dissolves a bit with water. The only area that could be improved is the "blackness" of the ink – I think it could be deeper/darker. Otherwise, it's a good liner.
Marabu Graphix Aqua Paper
This new paper pad from Marabu is a fine grained, slightly textured paper pad for watercolor and other water based media. It is 100% cellulose, natural white, and acid-free.
LW NOTE: Such a good paper! I changed my mind about it several times. At first I expected a thin and mediocre paper but when I unwrapped the pad the paper seemed actually good quality with quite thick sheets. then when I started painting on it, for some reason I was convinced it wasn't very good but then I realized it is, in fact, a good paper and it does work perfectly with the inks. Painting on this paper was a pleasure and I wish it was available in Poland! One thing I noticed though is that my masking tape has torn it a bit so next time I'll have to be more careful about removing the tape.
Prompts
Prompt #1: Spaceship
Prompt #2: Robot
Prompt #3: Jewels
Prompt #4: Insect
---
And here is what I came up with using the provided supplies (plus Sakura white Jelly Roll and Faber-Castell white Pitt Pen for white blinks). Obviously, the prompt I chose is #4: Insect 🙂 The photos don't really show how shiny it is, so if you'd like to see a video that shows the metallic shine you can go to my Facebook or Instagram post.
Have you ever tried metallic inks or any other metallic medium? What did you draw or paint with it? Or what would you make with it if you haven't tried them yet? Don't be shy and leave a comment! 🙂