Paletteful Packs – August 2022 | Part 1
This entry was brought to you by my Ko-fi supporters.
This month I managed to not check beforehand what was inside the package, so opening it was a real surprise for me! Unfortunately, not checking the contents in advance also made me forget to copy all the descriptions from Paletteful's website. So for this month's supplies, I copied the descriptions from various art stores and official websites. But what was inside the August 2022 pack? Let's find out!
To learn more about Paletteful Packs click HERE.
Contents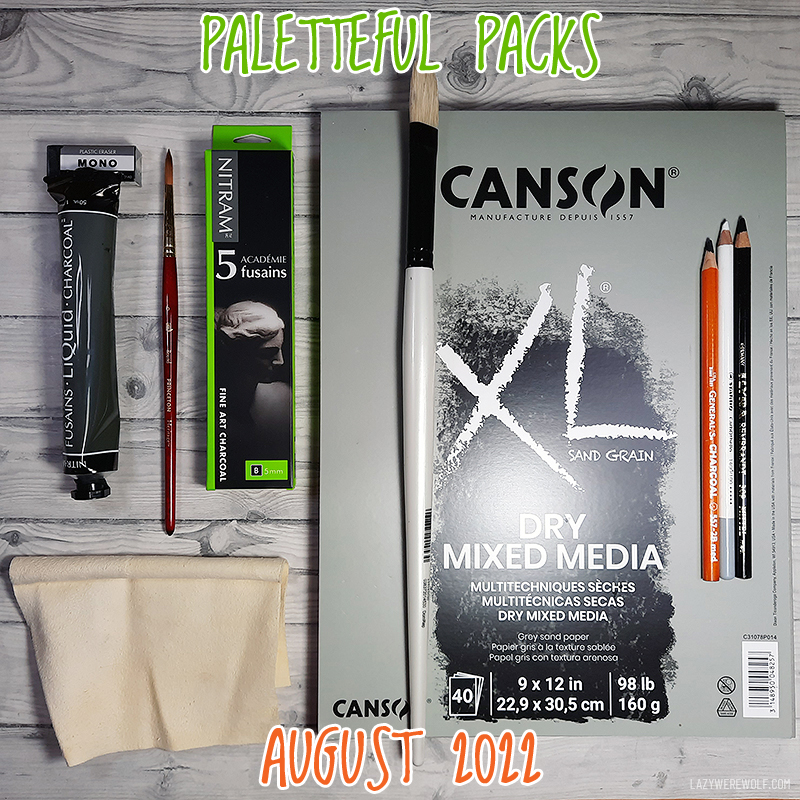 Nitram Liquid Charcoal
Nitram Liquid Charcoal is water soluble, so you can adjust the values from very light to a deep, rich black. Straight out of the tube, it is as thick as oil paint – you could even use a palette knife. It dries very fast. WARNING: This product contains a chemical known to the State of California to cause cancer.
LW's note: It's an interesting art supply that I haven't tried yet but that note stating it may cause cancer is concerning, to be honest. Especially since I keep my art supplies in my bedroom. Also, after 2 months of not using it, the tube broke from the internal pressure and there is a leakage. I hope it's because of some pressure changes during the transport, not because of the cancerogenic chemical in it…
Available for 165,90 PLN on SzałArt (33,08 USD).
Canson XL Sand Grain Dry Mixed Media paper
XL® Sand Grain is a paper made from organic, renewable materials. Its special texture allows pigment retention and is an ideal paper for all dry techniques (including pastel, charcoal, carbon, pencil…). It is a double-sided paper, ideal for students.
LW's note: The paper is very interesting. Not very thick but it has a distinct sand-like texture. It feels almost like sandpaper, so the information on the cover saying "sand grain" definitely wasn't a lie. The paper has a greyish-green tint but is neither too dark, nor too bright, both the charcoal and white pastel are clearly visible on it.
It's available for 35,50 PLN on Artly.pl (7,08 USD).
Nitram Academie Fusains Fine Art Charcoal
For the discerning artist that requires a rich black for drawing, then Nitram B is the answer. It is very soft, yet is still able to carry a point for working rich blacks into the paper or canvas.
LW's note: It's the most "classic" charcoal – it actually feels like very light, fragile burnt wood.
You can get it for 44,20 PLN on SzałArt (8,81 USD).
Princeton Heritage 6 round
Developed by master Japanese brush-maker, Naohide Takamoto, this brush was the first synthetic sable that Princeton offered to artists. Today, it's acclaimed as one of the best watercolor brushes by artists worldwide. Heritage paint brushes drink up gulps of water, paint supple strokes and retain their shape, making them ideal for watercolors. Each brush features a unique blend of golden taklon in multiple diameters for an excellent point for fine details, crisp edge for fine lines and snap just like natural sable. These artist paint brushes are more affordable than genuine sable and perform better than most synthetic hair brushes.
LW's note: It's the same brush as in January 2022 pack and I still love it equally much 🙂
Not available in Poland.
Simply Simmons #10 Chungking Hog Bristle Oil brush, filbert
For students, amateurs, and professionals alike, Simply Simmons Brushes offer excellent performance, dependability, and value — all at one low price, no matter what the size. They are handmade by skilled craftsmen to meet the same high standards artists have come to expect from the Robert Simmons name.
Chungking Hog Bristle Brushes are designed especially for work in oils and acrylics. They feature fine, artist-quality natural hog bristles, formed by hand using traditional interlocked construction. This process utilizes the natural curve of the bristles to ensure that the brush maintains its shape over time, even with rigorous use. The brush heads are resin-bonded and crimped to kiln-dried, lacquer-dipped birch handles using seamless brass and aluminum ferrules to ensure a long-lasting, permanent fit. Simply Simmons Brushes are easy to recognize by their distinctive shiny black ferrules and pearlescent white handles. Reach for them when you need a brush that's well-made, durable, and affordable.
LW's note: The brush is MASSIVE. I'll definitely use it for my bigger acrylic paintings.
Not available in Poland. A similar Winsor & Newton hog bristle filbert brush #10 can be obtained from SzałArt for 40,35 PLN (8,06 USD).
Artists' Chamois Simply Delar & Rowney
An economical artists' chamois, ideal for use with pastels, graphite and charcoal. Perfect for blending or lightening a heavy application to give a smooth finish. Rinse after use and let dry naturally. 100% natural product.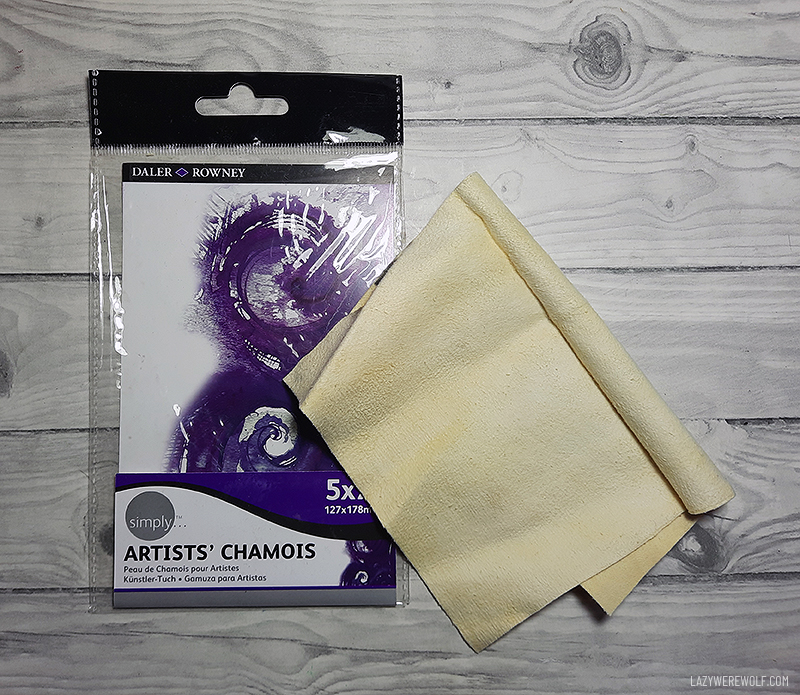 LW's note: I've never used anything similar to my art. The chamois is very soft and nice to touch, looks like it will be an interesting blending tool.
Couldn't find anything similar in Polish stores. It's sometimes a part of cheap art supplies sets.
Stabilo CarbOthello Pastel Pencil (white)
These German-made pencils are world famous for their quality, lightfast pigments. Their opaque, water-soluble colors blend beautifully and erase easily. The large-diameter lead can make broad strokes or be sharpened to a fine point for details and lettering. Draw with CarbOthello pencils as you would draw with a pastel stick. CarbOthello pencils can also be used like watercolor pencils — they respond instantly to a wet brush or pre-dampened paper. Pencils have semi-soft leads in a woodcased pencil form and are pre-sharpened.

LW's note: I've never really used soft pastels for serious artworks so I don't have much experience with them. I can't wait to get familiar with this supply.
Available for 5,70 PLN on SzałArt (1,14 USD).
General's Charcoal pencil 557-2B med
Handcrafted with an extra smooth, rich, intense black drawing formula and sustained yield cedar wood. Oil free and blendable; made with the finest organic blacks and featuring a rich warm hue, to create beautiful art renderings and mixed media art. Ideal for drawing class, painting, sketching, still life, portraits, applying patterns on canvas, or to draw directly onto fabric. Achieve a wide range of tonal values or blend with chalk pencils. The pencil makes charcoal drawing much neater and cleaner! Wood wrapped high quality charcoal that can easily be sharpened for detail work. Smooth and blendable!

LW's note: This charcoal seems to be not only medium hardness but also medium quality. I'm not impressed with this pencil but I'm still hoping for a positive surprise.
Didn't find it available for purchase separately but it's part of a set you can buy on Maluje.pl. The set is 33 PLN, so 8,25 PLN (1,65 USD) per piece.
Lyra Rembrandt Carbon Special Pencil 309 Mittel (medium)
The Lyra Rembrandt Carbon Special Pencil has a higher concentration of charcoal than the normal Lyra Rembrandt Carbon Pencil. It is designed to a very deep black colour which has remarkable depth and tone. It is often used to give extra intensity and body to drawings and sketches. Although the core is oil based, it is recommended that a fixative is used due to it's strong colouring power.

LW's note: I know Lyra from their great pencils and kneaded erasers. I haven't tried their charcoals before but this one works great and I'm looking forward to creating something with it.
This charcoal isn't available in Poland or at least I didn't find it in any online store.
Tombow Mono plastic eraser
Soft plastic eraser removes marks cleanly with little pressure and no paper damage. Great for school or art. The eraser's protective paper sleeve features rounded corners to prevent damage to the eraser during use. Black erasers hides graphite residue and always looks neat and clean.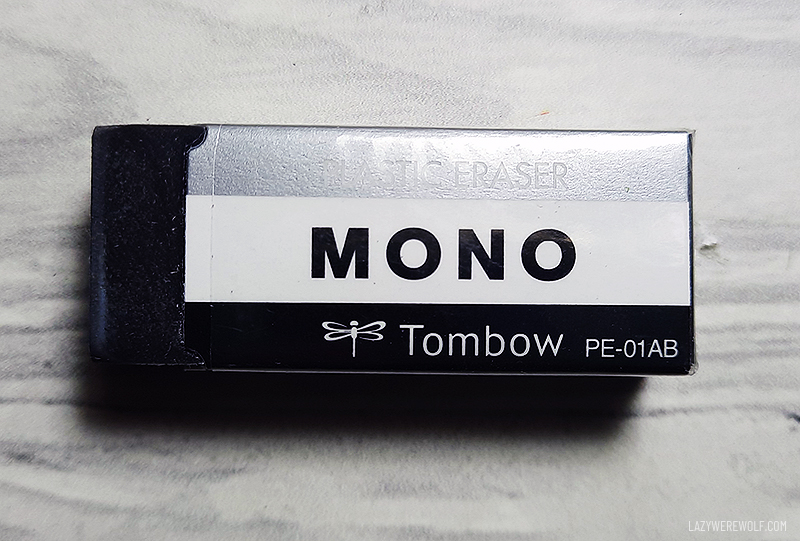 LW's note: It seems to be a regular eraser but I do like it. I don't really have more to say about it, it's a decent eraser.
The white version is available on Tinta, the prices starting at 4,30 PLN (0,86 USD).
Prompts
Prompt #1: Self Portrait
Prompt #2: Elephant
Prompt #3: Skull
Prompt #4: Silhouette
---
You've reached the end of this part! To keep reading about my impressions of the supplies and see my artworks made with them click HERE.