Paletteful Packs – September 2022
This entry was brought to you by my Ko-fi supporters.
Why does summer always end so fast? Fortunately, the Pallettful Packs deliveries don't end… unless you want them to 😉 Will this September Pack make me feel summer vibes for longer? Let's see what's inside!
Contents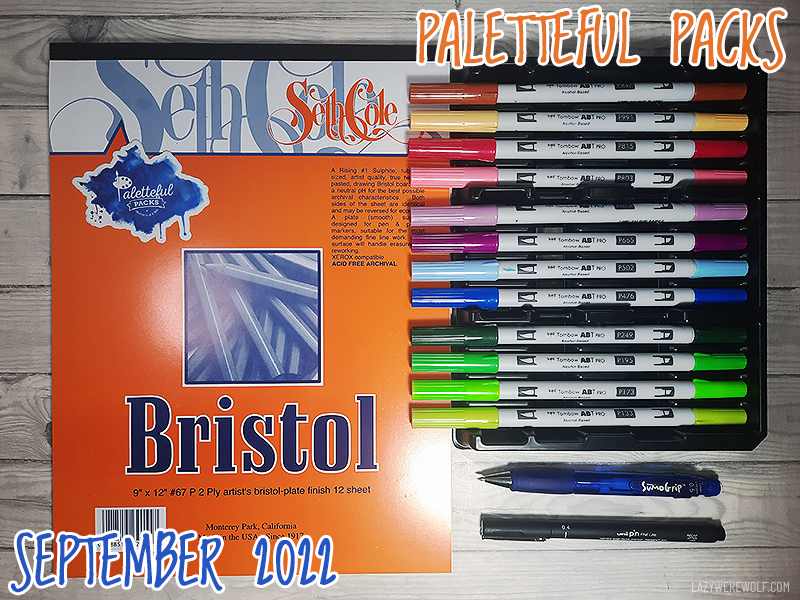 Tombow ABT PRO Alcohol-Based Marker 12pc Nature Set
ABT PRO is a permanent dual tipped art marker with flexible brush tip and chisel tip in one. "Nature" color 12 pcs assortment, including reusable and stackable desk tray. Brush tip works like a paintbrush to create fine, medium or bold strokes by simply changing brush pressure; chisel tip provides consistent lines and broad coverage for coloring large spaces. Slender barrel for comfortable grip during use. Ideal for artists, designers and crafters. Permanent, fast-drying alcohol-based ink produces rich, vibrant colors that can be layered to create rich saturation, shading and color gradation. Durable nylon brush tip and polyester chisel tip retain shape after heavy use. MSRP: $46.99
Colors Included: P133 Chartreuse, P173 Willow Green, P195 Light Green, P249 Hunter Green, P476 Cyan, P502 Arctic Blue, P665 Purple, P673 Orchid, P803 Pink Punch, P815 Cherry, P991 Light Ochre, P947 Burnt Sienna
High-quality, resilient flexible brush tip & firm chisel tip marking pen
Permanent, fast-drying alcohol-based ink produces rich, vibrant colors that can be layered to create rich saturation, shading and color gradation
Reusable and stackable desk tray included
Ideal for artists, designers and crafters
LW's note: The markers have a cheap design in my opinion and the set's colour choice could be better. The ink in some of the markers seems to be drying out but the brush tips are quite nice. The markers are neatly laid out on a tray, separated into fours. Under the longer cap by default there is a brush nib and under the shorter one – a wide nib. Additionally, the brush nib side is marked on a barrel with a small dot.
MSRP: $46.99. I didn't find this set available in Poland. Separate markers are available on Kalia for 19,94 PLN (3,98 USD) per marker. This gives around 240 PLN (47,95 USD) for the whole set, excluding the tray.
Seth Cole Bristol (Plate) 9″ x 12″ Pad
The paper is two-ply artist drawing board with a plate (smooth) finish. The surface is designed for pen, pencil, and markers.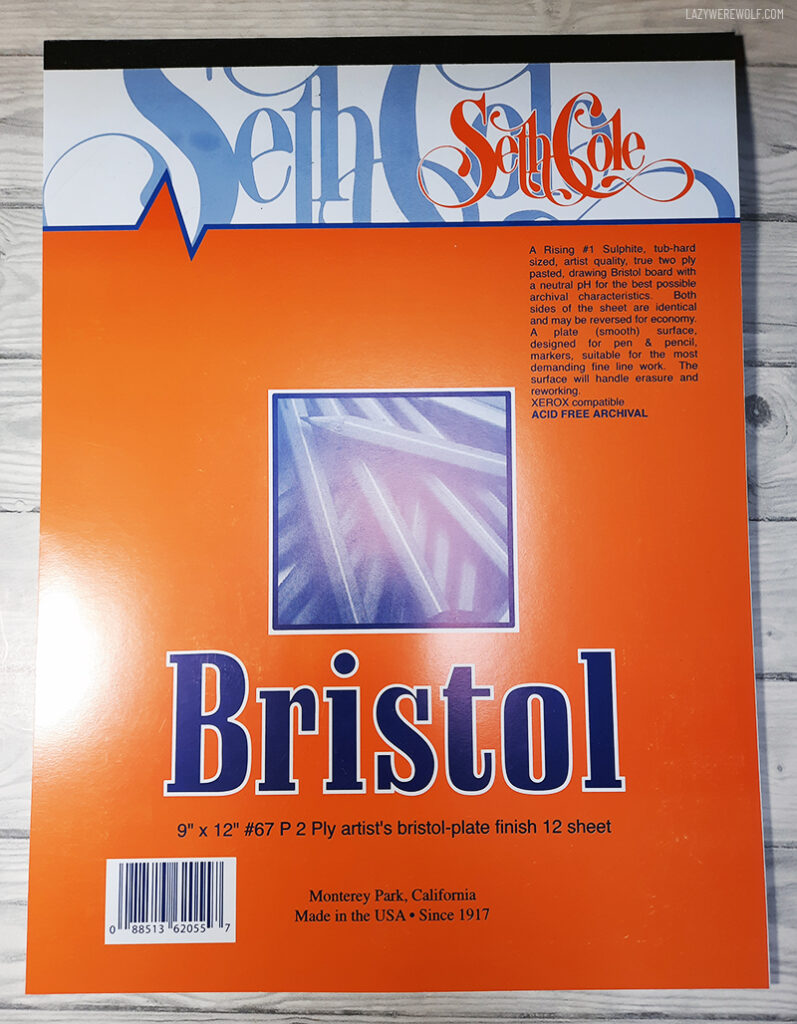 LW's note: I love smooth surface papers and this one is definitely a smooth one. It also seems to be of good quality and to be honest – I love it. I was worried it would be a miss, like the last Seth Cole watercolour paper, but this bristol is actually great.
MSRP: $10.99. This paper is UNFORTUNATELY not available to buy in Poland.
Sakura Sumo Grip Pencil
Sumo Grip's triangular cushion grip provides the ultimate comfort while the oversized barrel alleviates cramping over long-term use. This ergonomic pencil features a stylishly designed clear barrel and a jumbo twist eraser that lasts six times longer than most mechanical pencil erasers. The leads can be refilled.

LW's note: We've got a 0.9 pencil from this line in June 2022 Pack. This one is 0.5 and as I really liked the previous one, I actually love this new one. It does feel ergonomic with its triangular shape and it has an anti-sliding rubber part.
MSRP: $5.22. The pencil is available on SzałArt for 23,30 PLN (4,66 USD)
Uni Pin Fineliner 0.4
uni Pin Fineliners are loved by artists and professionals around the world. Especially suited for drawing, illustration and design, this versatile fineliner features Super Ink technology, which provides high intensity, depth and water-resistance without bleed-through. The nib is supported and protected by steel meaning the PIN drawing pens are long-lasting and will not be damaged from use with stencils. The pigmented ink is quick-drying for smudge-free erasing while inking over drawings.
LW's note: Another awesome supply in this pack. The fineliner's ink is really deep black even after drying. The nib has rounded edges which makes it very pleasant to use. I'm definitely going to keep using it.
MSRP: $2.75. You can get this fineliner on SzałArt for 10 PLN (2 USD)
Prompts
Prompt #1: Mushrooms
Prompt #2: Flower
Prompt #3: Tree
Prompt #4: Cactus
---
The markers
As I said before, the markers have a pretty cheap design, but that's fine as long as they function properly (although it is a bit disappointing). Some colours are amazing and some… not so much, especially 133 and 803 – they look like highlighters. Even though the 803 marker's ink turns into a more pink colour after a while as it dries, I'm not a big fan of it. On the other hand – there are some colours that I absolutely love, like 673 and 991.
The colours of the markers' caps more or less match the ink, which is not the most essential feature but makes your work with the markers much easier than if the caps were completely different from the actual marker's colour.
The set comes with a tray which is advertised as stackable and I must admit this tray is quite useful. If you're going to work with these markers a lot and you want to get more colours, the trays are a very handy solution so it's a pleasant surprise.
I'm not sure if the markers from my pack were old or the batch was bad, but some of them were already drying when I received them and after a month, when I finally had time to draw something with them, the brush tip of the marker 133 was completely dry and beyond saving. It's a shame because the markers weren't horrible (I had worse experiences with Kuretake alcohol markers) but I don't want to spend my money on investing in something that dries so fast and isn't refillable. Overall even very expensive Copics calculate better than the Tombow ABT Pro markers and they blend much better, too.
To be honest, because the markers didn't seem like the company tried their best with designing them, they didn't inspire me to try my best either. I did some sketches to test the markers' capabilities and I think sketches are the best thing you can these markers for. Don't get me wrong, sketches generally are awesome but they're not really my style. But, even though sketching with the markers was ok, I didn't want to struggle and get frustrated from trying to draw something more ambitious with them. Therefore, I decided to… not try it this month. Note that I'm not saying the markers are particularly bad, they just aren't inspiring me to attempt something "serious" with them. But it may be completely different for you and you won't know if you don't try!
The paper
The last time I got to try Seth Cole's paper it was a complete fiasco but this time it was quite the opposite. The Seth Cole Bristol pad is exactly as I'd dream it would be. It's… perfect! 🙂 White, smooth and thick but not stiff. I was worried the alcohol markers would bleed to the other side, as they tend to, even when it comes to bristol paper but… they didn't! It was a big surprise. Not only they didn't stain the next page but they didn't appear on the back side of the original drawing page either! Sketching on the paper was a pure pleasure too (although you have to be careful with erasing pencil lines to not smear them, due to the paper's smoothness) and so was drawing the lines with UniPin fineliner.
I'll definitely use the paper for my future projects and I can't wait already!
The pencil
It may be a regular 0.5 pencil but I love it! It will probably replace my favourite 0.5 pencil. I wasn't that impressed with the 0.9 pencil from the same line I got in one of the previous Packs, but I also didn't pay much attention to it because I didn't like the leads' thickness. This pencil though is a pleasant surprise and an addon to my usual art tools!
The fineliner
Another big surprise from the September pack – this fineliner is amazing! The rounded corners of the tip make it easy to draw with the fineliner even at an angle and its ink is darker than in other black fineliners that I've tried AND it stays this way. It's a great, high-quality fineliner that I'll keep using.
The sketches
Looking at the markers' colours I got in the set and the Paletteful Prompts I decided to start testing the supplies with Prompt #4: Cactus. During the colouring process, I found out that the markers don't blend very well. Or at least not as good as the alcohol-based markers I'm used to. Because the blending wasn't as good as I expected and left kind of a comic book-like cell shading, I decided to give the drawing a lineart to make it more coherent in its style.
Working on this sketch made me also realize that even though the markers don't bleed through the paper, there is some feathering occurring when colouring with a thicker layer of markers (visible especially around the pot).
The next sketch I made was Prompt #2: Flower. Here the goal was to check if it was actually possible to blend the markers' ink better and get nice, pastel colours.
What I learned is that the markers don't want to blend much on their own and when they do, they feather like crazy, so it confirmed what I noticed earlier when drawing the cactus.
I tried to aid the blending with a Copic blender and while it did help, it also increased feathering. Because of that feathering, the drawing lost its definition, so I eventually decided to fix it by adding lineart to this sketch, too, even though I planned this one to be fairly realistic and without the lineart.
The last exercise I did with the markers was Prompt #1: Mushrooms. With this one I wanted to see how far into realism I can go with the markers, remembering I have both a limited colour palette and blending options.
The sketch came out ok, I think, but it was after finishing it, that I decided to not draw something "big" with this month's Pack's supplies. There were simply too many obstacles: the feathering, the limited palette, the issues with blending and I was worried some markers would run out of their ink.
The summary
The Tombow ABT PRO alcohol-based markers aren't bad but they won't be enough for experienced artists if they don't like sketchy or cell-shaded drawings. For beginners, the markers would be perfectly fine, although they aren't the cheapest on the market and neither are they the best of the cheaper markers (cheaper than Copic markers, that is). They don't blend too well so you might need an alcohol-based blender either from Tombow or another brand, to make the blending more effective but you need to be careful about the feathering if you try to blend the colours. Even though some of the markers' colours look like highlighters, some other ones are beautiful. The Tombow ABT PRO markers come in many colours that you can buy separately, so if you don't like the colours in a particular set, it's not a big issue – you can grow your Tombow markers collection one by one. The ink in this supply has decent quality and is generally fine when it's not drying, but some markers in my set seemed a bit dry from the beginning and one of them dried out almost completely – I don't know what was the cause.
For me, the markers were a bit of a disappointment but it was compensated by all the other supplies from the Pack which were great and I'll definitely continue to use those: Seth Cole Bristol pad, Sakura Sumo Grip pencil 0.5 and UniPin 0.4 black fineliner.
---
Wow, that was an unusually short post! Thank you for reading and thank you to all Ko-fi supporters for making this post possible to write! <3
What are your favourite alcohol-based markers? Have you tried Tombow markers or any other than the famous Copics? Or maybe as soon as you tried Copics you never looked back to check a different brand? What's your opinion on alcohol-based markers? Let me know, I'm very curious!