Paletteful Packs – June 2022 | Part 1
This entry was brought to you by my Ko-fi supporters.
When I saw the list of the June supplies I wasn't happy at first, "just graphite pencils and many of them, boring". But then, when I started thinking about it, I actually got excited. I realized I haven't drawn with pencils for a long time now and no matter if the pencils I'll receive are to my liking, it's still pencils, which I used to love and draw almost exclusively with. And now, because I'm getting so many various ones, it will be fun to test them all.
So, let's see what was inside the box this month! (Some of the pictures were available for my Ko-fi supporters in Early Access release)
CONTENTS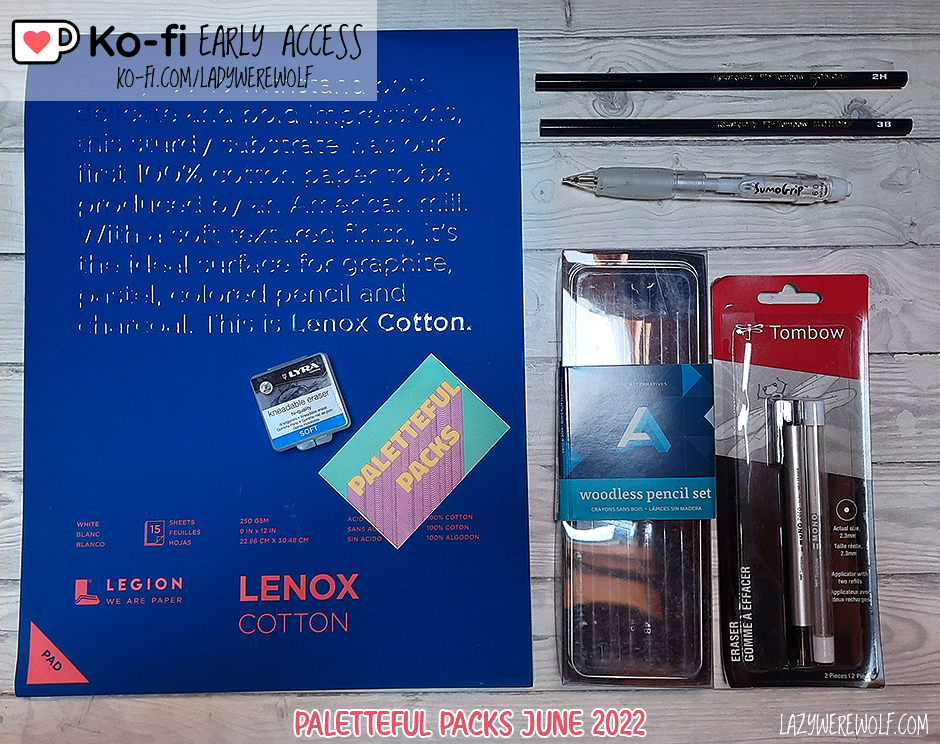 Woodless Graphite Pencil Set
Art Alternatives Woodless Graphite Pencils are made from pure graphite and fine clays with a lacquered exterior to facilitate clean handling. A high degree of light-fastness and high pigment density make these pencils an indispensable tool for any artist. Suitable for expressive shading of extended areas. The set features two each of 3 soft grades (2B, 4B and 6B), giving the user freedom to create a wide range of tonal effects and detailed drawings.
LW's NOTE: One of the 6B pencils arrived with a broken tip. Other than that, the pencils were a positive surprise – in a plastic container, there was an elegant, metal pencil case. The pencils' coat has a nice, simple design and I absolutely love the pencil case. The general first impression of the pencils was very good.
MSRP: $18.49 – this brand is unavailable in Poland. We do have Koh-I-Noor woodless pencils though, a set of which you can buy for 29,50 PLN / 6,30 USD on Art Equipment. That set, however, consists of 8B, 6B, 4B, 2B, HB pencils and a watercolour 4B pencil and it comes without a pencil case. To compose a set identical to the Art Alternatives' one, you need to buy 6 separate pencils for 4 PLN each, which gives 24 PLN, and a metal pencil case, for example, this Caran D'Ache one for 22,30 PLN. Summed up you'd spend 46,30 PLN / 9,89 USD.
Legion Lenox Paper Pad
This paper was the first domestic 100% cotton paper specifically designed for fine art applications back in the early seventies, created by Legion co-founder Len Levine.
This machine made grade was created to have its own unique characteristics which made it so suitable for a variety of media. Lenox is only 250gsm but very dimensionally stable making it an excellent paper for silkscreen. It's medium textured surface make it ideal for all drawing techniques: graphite, pastel and charcoal. Forty plus years in the market and still one of the most popular papers for multiple applications and has set the benchmark for all of Legion's quality domestic cotton grades to follow.
LW's NOTE: The pad's dimensions are slightly bigger than A4 format. The paper arrived separated from the cover but at least still glued together; the corners were a bit squashed, too. It's a bit off-white in colour, I wouldn't call it ecru, it's closer to light ivory. The sheets are very thick and the top surface has a slight texture and a small tooth to it.
MSRP: $26.78 – another brand unavailable in Poland! On top of that, I couldn't find a 250g paper pad meant mostly for pencils and made of cotton!
Tombow MONO Professional Drawing Pencils – 2H and 3B

Mono pencils are made with superior, extra-refined high-density graphite. These long-lasting pencils feature strong points making them extremely break resistant. They also wear slowly, all the while producing smooth, dense lines when writing or drawing. The smear-proof lines give drawings a crisp, clean appearance.
LW's NOTE: I was curious about the pencils so I checked Tombow website and the description there says "Standard black lead MONO pencil for office and school use. (…) Perfect for beginners.". I just think it's worth noting since it seems art isn't their main purpose, but then also you can make art with literally anything.
MSRP: $1.56 ea. – I couldn't find these pencils in Polish online stores but there are plenty of equivalents, for example, this one from Koh-I-Noor for 2,15 PLN / 0,46 USD per each.
MONO Zero Round Eraser + Refill Value Pack
Protect artwork and erase in detail with this eraser in a pen-style holder. Protect your work and erase only what you need with a high-quality, precision eraser that will not damage paper. The eraser advances by clicking the other end of the pen-style holder. The holder includes a convenient clip for erasing on the go. Includes a refill pack.
LW's NOTE: A really nice eraser that works like an automatic pencil – you press the top to get more of the eraser out of the holder/barrel. The tip is tiny, around 2.5 mm (2.3, according to the packaging). The barrel is pre-filled with one eraser and we get 2 additional refills in a plastic container.
MSRP: $7.29 – the set is available for 26,60 PLN / 5,69 USD on SklepPlastyczny.pl (different design).
Sakura Sumo Grip Pencil
Sumo Grip's triangular cushion grip provides the ultimate comfort while the oversized barrel alleviates cramping over long-term use. These ergonomic pencils feature a stylishly designed clear barrel and a jumbo twist eraser that lasts six times longer than most mechanical pencil erasers.
LW's NOTE: A really nice and high-quality, thick, automatic pencil. I love the eraser – you twist the cap to slide it out of the pencil.
MSRP: $5.22 – The 0.9 Sumo Grip pencils aren't available in Poland, I only found 0.5 and 0.7 pencils (which I prefer over the thicker 0.9 ones). Those thinner ones you can buy on Szał dla Plastyków for 22,18 PLN / 4,75 USD.
Lyra Kneadable Eraser
This putty rubber block is ideal for removing all traces of charcoal and chalk from large surfaces. Ideal for erasing or lightening charcoal, chalk and pastel drawings, it can be easily shaped and leaves no smudges on the paper. The handy plastic case keeps the eraser pliable and soft.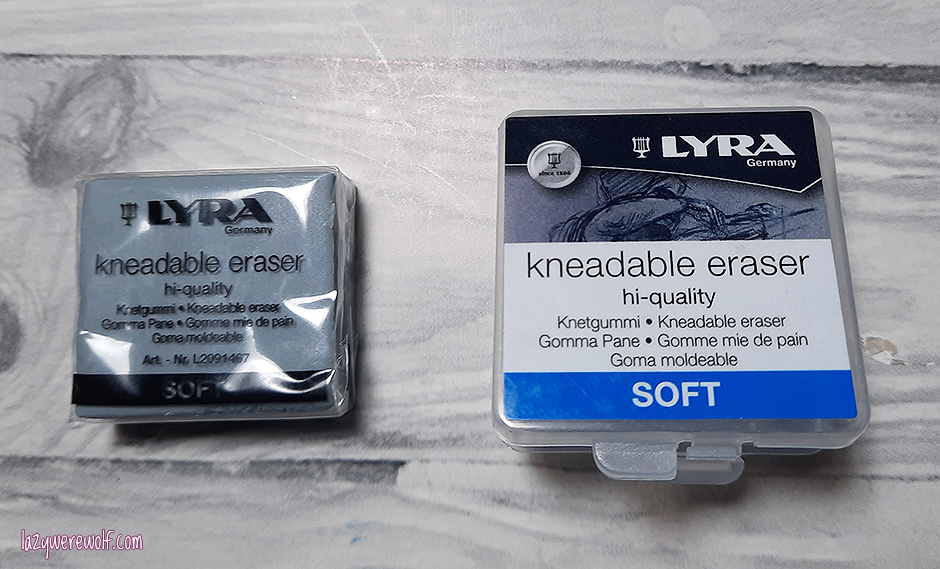 LW's NOTE: I have and use Lyra kneadable erasers for a long time now, so I didn't unwrap this particular one I got in the pack. For this month's artworks, I used the one I already had at home.
MSRP: $1.40 – available on SklepPlastyczny.pl for 4,50 PLN / 0,96 USD.
Prompts
Prompt #1: Snake
Prompt #2: Cup
Prompt #3: Self-Portrait
Prompt #4: Dance
You've reached the end of this part! To keep reading about my impressions of the supplies and see my artworks made with them click HERE.