Paletteful Packs – April 2022 
This is the first Paletteful post after I changed the format of those posts a bit, so I hope it's going to be easier for both the readers and me to go through it! 🙂
I spoiled myself the surprise before the box arrived because I was super curious about the contents this month! When I saw online what was inside I was excited about the challenge but also worried about how to tackle the media because they're definitely not something I'm very familiar with. But, I was determined to do my best!
To learn more about Paletteful Packs click HERE.
For my final thoughts and artworks scroll down to the last section of the post!
---
CONTENTS
Marabu YONO Paint Marker 6-Set
YONO stands for You Only Need One. This new opaque acrylic marker from Marabu works on almost any surface. Canvas or concrete. Glass or ceramic. Wood or plastic. Leather or fabric. The search for the right marker is finally over. Just go ahead and draw. Be creative. No matter what material. YONO contains a high-quality ink that guarantees brilliant color results. The YONO ink is water-based, lightfast, has little odor. The YONO is suitable for light and for dark surfaces. You can take the high-quality Japanese tip out of the shaft and clean them. If necessary, you can also replace the tip.
When wet, you can paint YONO with it with water. The matte shades dry opaque (excl. neon). After drying it is permanent on absorbent surfaces and can be removed from non-absorbent surfaces.
MSRP: $22.99 – available for 81,00 PLN / 18,25 USD on ArtEquipment
Marabu Black Pad 140 8.3″ x 11.7″ (A4)
This new paper pad from Marabu features 20 sheets of special black matte paper. It is suitable for almost all opaque acrylic markers, painters, and liners. Idea for drawing, writing, or decorating. The paper is uncoated, acid, and carbon free, made with 100% ECF pulp, biodegradable, and recyclable.
MSRP: $24.99. This paper is not available in Poland. The closest one I found is a Clairefontaine PaintOn Noir, available on SzałArt for 35,40 PLN / 7,92 USD.
LW's NOTE: The information from the website says it was supposed to be a 140 pad, and mine is 250 g/m2… Did I get a wrong one?
POSCA Markers (x2)
We also included a subscriber favorite: POSCA paint markers. POSCA is a paint marker popular with artists and creative hobbyists. The non-toxic water-based opaque paint covers well, is blendable, dries quickly, and can be overlaid when dry. You can use the markers on paper/board, wood, fabric, glass, ceramic, plastic, metal, minerals, and canvas. Which marker do you like the best? YONO or POSCA?
MSRP: $8.20 – available for 14,20 PLN each (both for 28,40 PLN / 6,36 USD) on SklepPlastyczny.pl.
Art Alternatives Mini Canvas
Create miniature art such on this unique mini format canvases. Made with the same acid-free acrylic primed cotton as the larger artist canvases, they are suitable for use with all acrylic paints, oil paints and other wet or dry media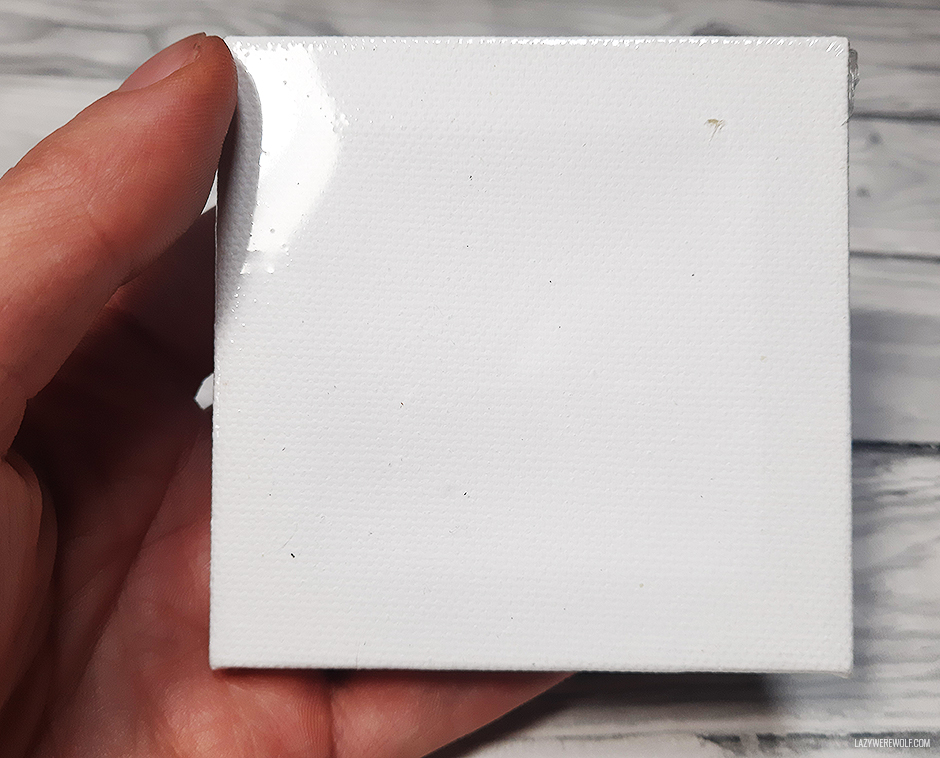 MSRP: $2.69 – similar one available for 3 PLN / 0,67 USD (sale from 5 PLN) on Allegro.
LW's NOTE: The canvas is 7,5 cm x 7,5 cm (3×3 in)
Canvas Panel 5″ x 7″
This canvas panel is made with unbleached 3 oz. cotton is primed with acid-free acrylic titanium gesso to a finished weight of 8 oz. and wrapped around an acid-free recycled paper board core.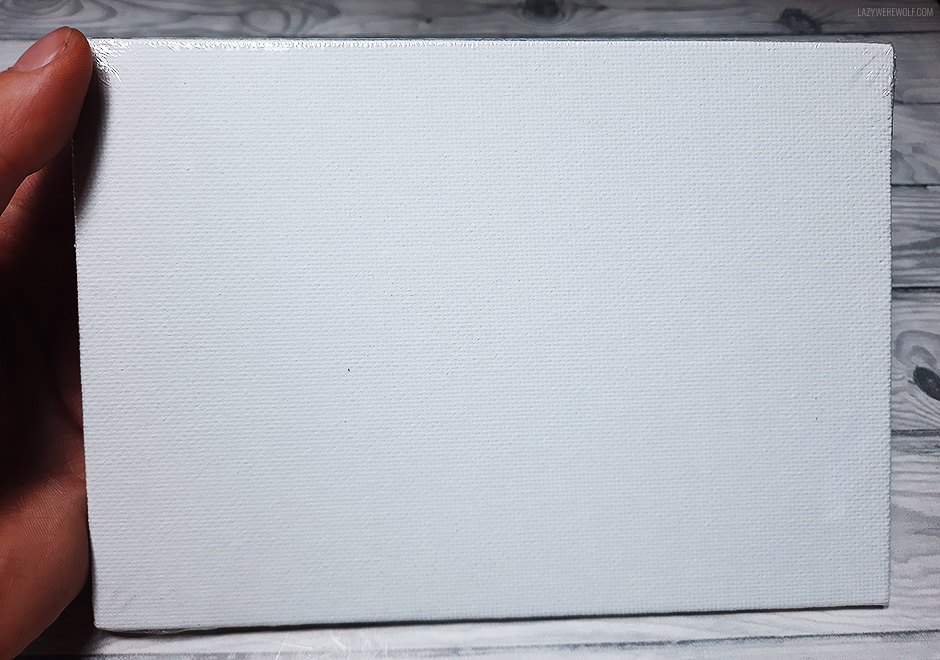 MSRP: $2.79 – available for 3 PLN / 0,67 USD on SzałArt.
Sticker
This month's sticker also deserves attention. Good job Paletteful Packs!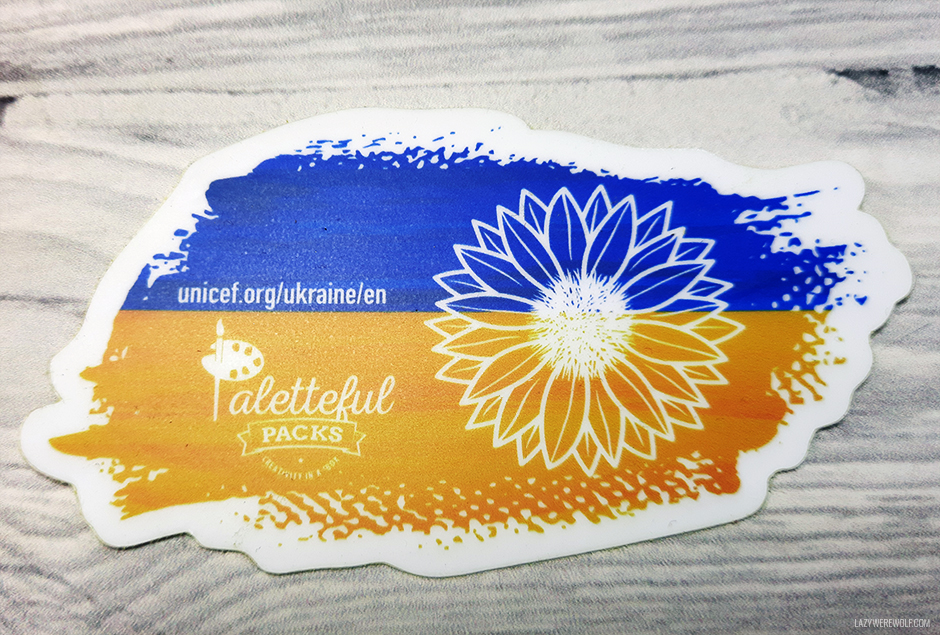 PROMPTS
Prompt #1: Work
Prompt #2: Skateboard Design
Prompt #3: Owl
Prompt #4: Boat
---
MY THOUGHTS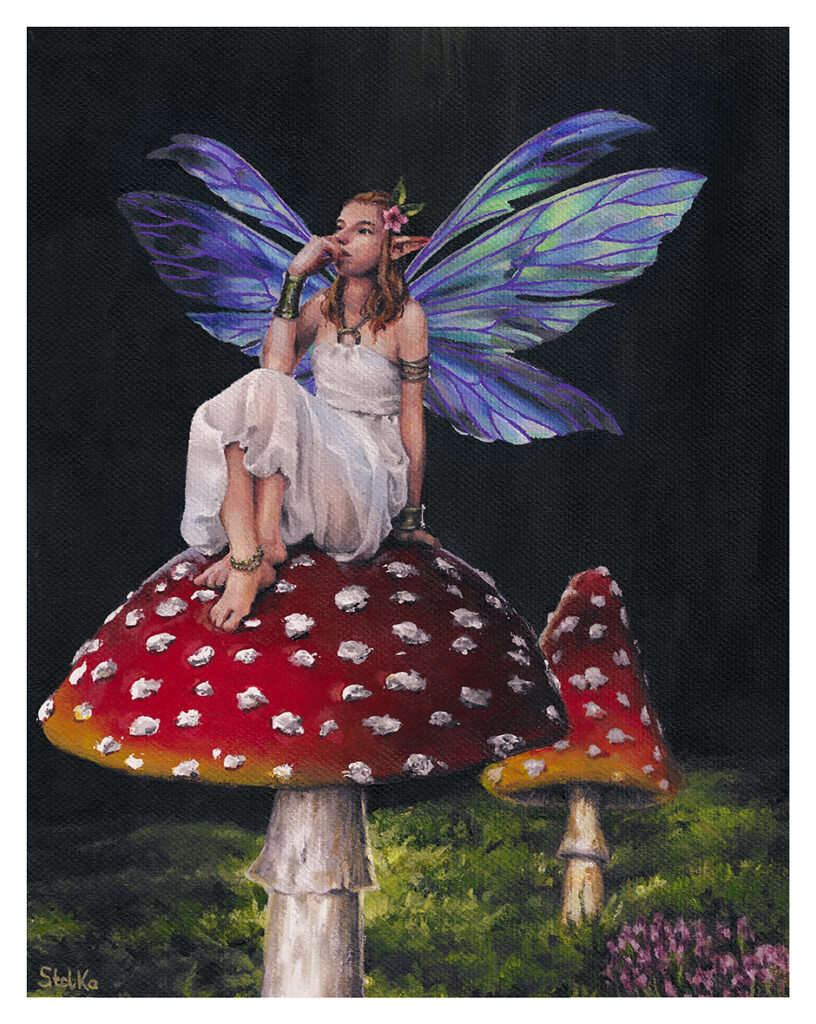 As I said earlier, before my April Pack arrived (it takes a while to get from the USA to Poland) I spoiled myself the surprise and checked on Paletteful PAcks' website what's inside. When I saw it was paint markers I worried a bit, because I've only used this medium once, in my Pondering Fairy painting and it was only one POSCA marker I used for the wings' veins (on the right).
I instantly googled YONO markers because I haven't even heard about them before and I found several available packages. I think there were 3 possible sets of 6 markers: basic colours, metallics and pastels. I knew the set included in the Pack wouldn't be metallic, because we got a metallic medium not long ago, so I started praying to Subscription Boxes gods for my set to be the pastel one, even though I suspected it would be the basic colours one. And so I checked online what the colours from the basic set looked like and I didn't really like what I saw. The colours looked like… well, BASIC, and very underwhelming. I wasn't a fan of the colour choice either.
After a while, my package arrived and at that moment I couldn't give it my full attention because I was then working on finishing my Poppies painting (below).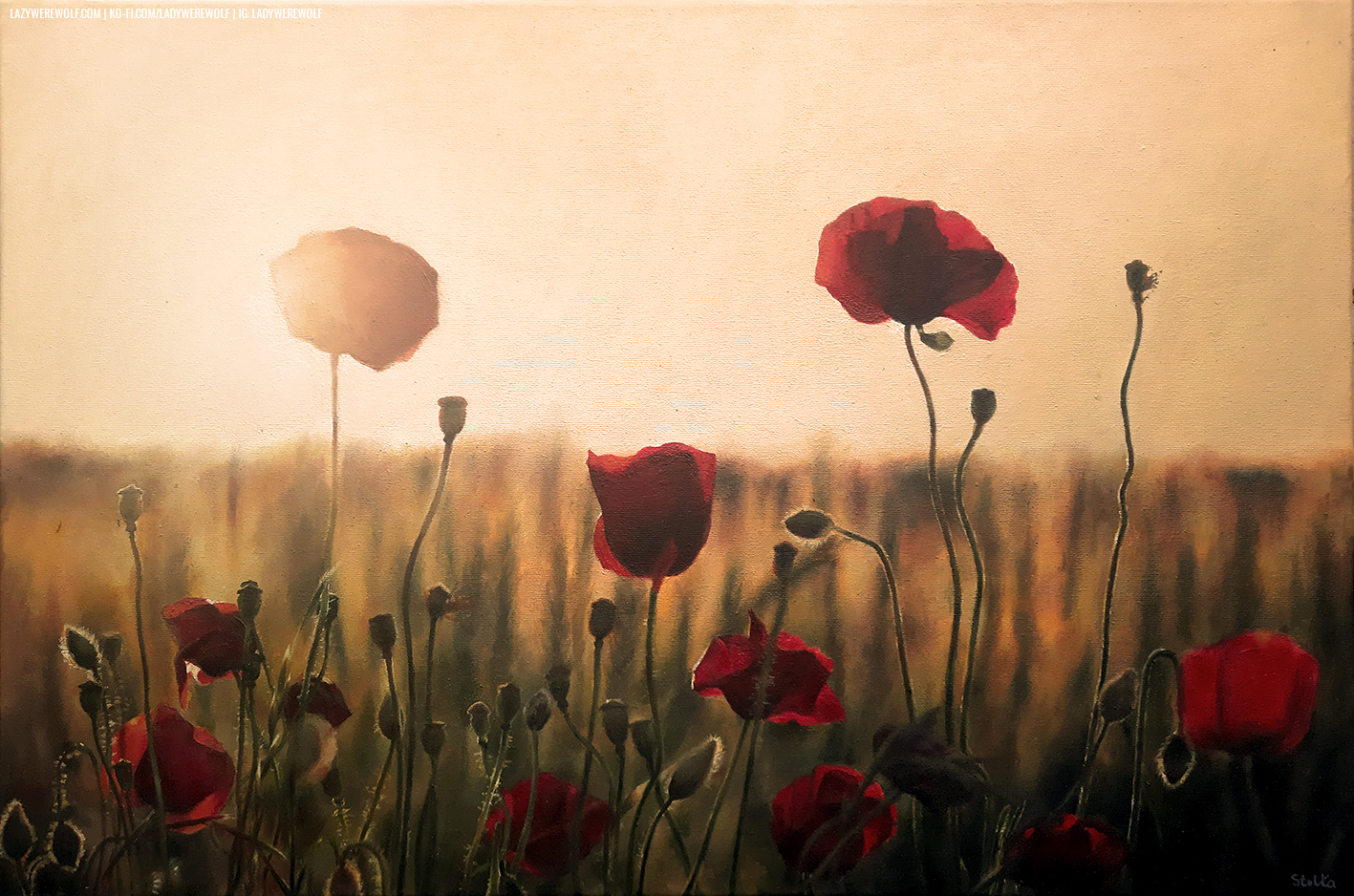 What I did, was I quickly swatched all the markers on a printer paper and I instantly changed my mind about the markers. I loved the colours and I loved how opaque they were. I did get excited about working with them and I even thought of getting the YONO pastel set to accompany the two pastel-ish colours of POSCA markers I got in the pack, as well as the basic YONO set.
When I was done with the Poppies painting I could finally begin more thorough testing of the supplies from the Pack.
YONO Markers
The initial tests on white printer paper were very promising. The colours looked rich and the paint was opaque. When I started layering the paint I noticed the white marker wasn't as opaque as I expected it to be and it was picking up colours from underneath a bit, so that's a thing to keep in mind if you plan to draw something multilayered with these markers. The rest of the markers don't really smear the lower layers as much. All of them slightly lifted on both paper and plastic palette until several minutes after laying down the colour so I suppose they need some time to fully dry.
During the second, more thorough test on white paper, the YONO markers didn't perform that well. In fact, they behaved very inconsistently. On just the paper all markers except Green and Blue looked rather opaque. But when I put them over a pencil to check if they'd cover the letters – It was clear that some markers weren't as opaque as they initially seemed: Yellow and Green didn't cover the pencil at all, Blue and White were somewhat opaque and Red and Black were fully opaque. But pencil is a specific tool and not all art supplies work well with it so I continued testing the markers, this time on provided Marabu black paper.
On this paper, the inconsistencies were similar, with exceptions – the yellow marker left the "transparent" group and joined the "somewhat opaque" one and white actually looked pretty opaque. The green marker looked horrible on both papers, it was transparent, chalky and streaky and I'm very happy I didn't need it for either of my artworks this month.
A thing to note here is that all the colours were more opaque on a layer of markers underneath rather than directly on paper. I assume it might have had something to do with the paper's soaking the water very fast but I'll say more about it later.
Because the black paper was going to be my main artwork's surface, I tried to blend and layer the markers on it. This test made me realize the best way to blend and dilute the paint markers is to lay down a swatch on a plastic palette, add water to it (and/or another colour) and just then put the diluted paint on paper (or your art surface) with a brush, rather than first put it on paper and then try to smudge it – the paints dry INCREDIBLY fast. This (taking the paint from palette to paper with a brush) was actually the technique I used for both my artworks this month 🙂
A very important thing to know if you're going to dilute the markers with water, is that they are very chalky and so even if they don't look like a light colour on a brush, they might be much lighter than your dark surface so I recommend adding them very cautiously with thin layers if you need a smooth gradient from black/dark colour.
I didn't experience any major issues while working on my artwork except for the problems with the white marker. The white YONO marker at some point started to dry out and was giving me less and less paint and eventually dried completely. I was a bit disappointed with it and started considering my other options to finish the drawing, but then I got the idea of fixing the marker by cleaning the tip from the paint by rinsing it. I took the nib out of the marker and washed it thoroughly to rinse any leftover paint and it helped a lot. Unfortunately, the same problem kept occurring and I'm afraid after all the marker went through, it may be completely unusable soon. I do hope It was just one incident and it doesn't happen more often with these markers. All my other YONOs worked pretty well and although the black one at some point started having the same issues, they never got as bad as the white marker's case.
POSCA markers
The POSCA markers actually behaved very similarly to the YONO markers I just talked about. There were 2 differences: both the POSCA markers were very opaque and there was no streakiness or inconsistency here. Additionally, they didn't lift at all, even a moment after putting them down on paper, so it seems like they dry a bit faster than the YONOs.
The paper (Marabu Black Pad 250)
The first thing I've noticed about the paper is that it's not deep black – it's more of a dark grey colour rather than black. It also has some off-white dots and paper filaments visible and at first I didn't like it at all. Even though the surface is quite smooth, and it's a feature I like in paper, I was underwhelmed when I first saw the paper.
The sheets are quite thick and as I mentioned, the surface is very smooth, these are both very welcome features but afaik, smooth paper is not ideal when working with colour pencils so you may want to know about it.
Water soaks in the paper instantly so at first I thought it wouldn't handle wet media very well, but honestly, it performed great, I loved to work on it. Even after using markers normally or diluting them with water, the paper didn't bend or wrinkle at all! The only moment when it started bending very slightly was after I finished the painting and sprayed it with varnish and it was the 3rd, thick layer that started affecting it. It still was a very slight bend that went back to normal after the paper has dried. You do have to be careful though when you lay down the first layers of markers because they may scar or even tear the surface of the paper.
I actually loved the paper a lot and after my initial disappointment with it I didn't expect to have such positive experiences with it. I definitely will use it in the future.
---
THE ARTWORK
Before committing to a big and time-consuming artwork I wanted to first test how far can I go into realism with the markers and I wanted to test that on a smaller surface, so decided to give the tiny Art Alternatives canvas a try. And because it was indeed very small, i thought it would be really cute if I painted a bumblebee on it!
First, because the canvas was off-white, I covered the whole surface with a white YONO marker, to even it out and lighten the colour. Then, because, as I said before, YONO markers, especially the white one, lift a bit with water and with other markers – I sprayed the surface with 2 layers of my favourite Winsor & Newton Professional Satin Varnish and… I overdid it! I had problems with laying down the first layers of the markers. The paint was beading up not sticking to the surface at all! I worked it all out after a while and soon I could start painting the bumblebee. With some patience, I managed to paint this little thing:
I think it came out pretty cute! And it was a great exercise before starting my main drawing for this month's Paletteful Pack and for that one I chose the prompt "Owl". The final result is below and the whole process of creating it is available for my Ko-fi supporters!