Ulchabhan! …but with watercolours
My little owl I've drawn to help me learn Irish was featured on Ko-fi's art highlights and it made my evening! I felt and still feel very honoured and appreciated, especially since the art there is hand-picked, not based on likes or popularity. To think someone went to see my work and decided it was worthy of being FEATURED… I still can't believe it, I'm so grateful, thank you, Ko-fi!
I drew that owl, Ulchabhan, to help me learning Irish but then I thought, Owl is a symbol of wisdom, so why not go a step further – with help of my little feathered companion I could also learn other art techniques and media. With the assistance of my awesome lightbox (If you've ever considered buying one – just do it, it's so helpful!) on 3 various kinds of paper, I've made 3 sketches based on my original lineart. This way I was able to also test the 2 new SM-LT Start Pads I bought recently – one for watercolour and one for painting (I'll use it for my acrylics).
I asked for help in deciding which technique I should try first on my Facebook page and I was suggested watercolors. And to be honest – I think I was excited about them the most because I haven't used them since… Ever 😀 But I got this new watercolours paper in small size (A5) so it doesn't overwhelm me and I revived my old cheap watercolours too, so I was ready to give them a try!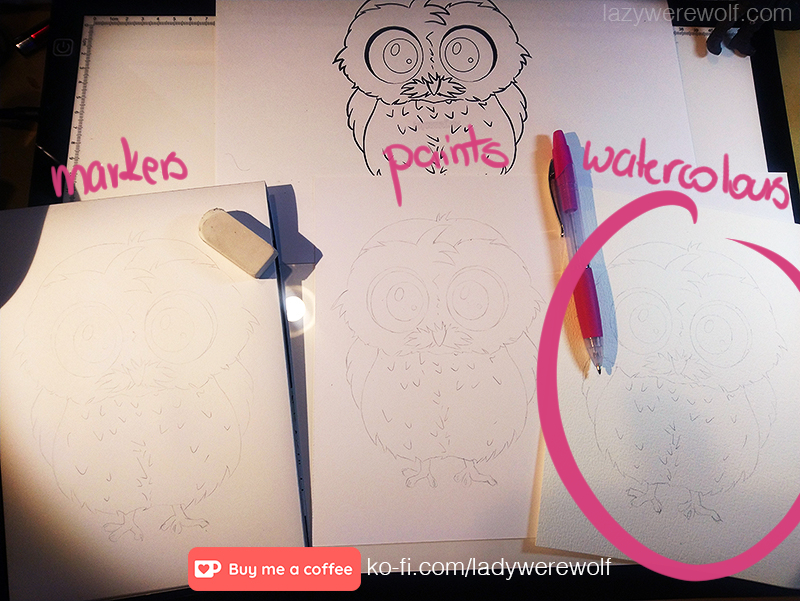 Acrylics version: HERE | Markers version: [post in progress]
Below you can see the photos with the process and I have to admit, as scary as it was, I enjoyed the watercolours a lot and even though I still have A LOT to learn about them, I think the result is pretty good for the first try with them 🙂 I'll definitely colour and paint more with them!